Detroit Red Wings Training Camp Roster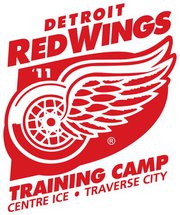 The Detroit Red Wings have announced their 2011 training camp roster to be held at Centre I.C.E. arena in Traverse City, MI. The main camp roster features this summers free agent signings – Ty Conklin, Ian White and Mike Commodore. Additionally, all prospects from the Red Wings prospect tournament roster will be participating in the main camp (including the seven free agent try outs) as well as players slated to play in the Red Wings farm system.
This year's training camp will kick off September 17 and will run through September 22. For more details on training camp and information on tickets please click here.
* denotes free agent tryout
+ denotes players on an AHL contract
** All Rosters are in draft form and are subject to change.