Brent Raedeke: Odd Man Out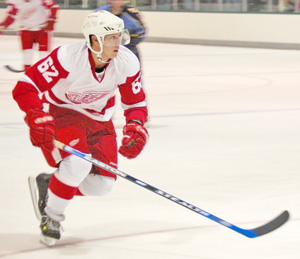 When the Red Wings announced their preliminary 2011 NHL prospects tournament roster, Brent Raedeke was no where to be found. The 20 year-old forward is eligible for the tournament having played in only one professional season last year with the Grand Rapids of the AHL. The tournament roster rules restrict participating teams to just four players with a maximum of one year of professional hockey. Detroit has five players who fit into this category – Raedeke, Brendan Smith, Willie Coetzee, Brian Lashoff, and Joakim Andersson.
With five centers already on the roster (Andersson, Louis-Marc Aubry, Landon Ferraro, Brooks Macek, and Alan Quine), Detroit opted to carry eight defensemen for the tournament and leave Raedeke off. The Wings management still like the 6-foot, 197 pound speedster but likely have a good understanding of his skillset. Additionally Detroit brass likely wants to get a longer look at Andersson (possible call-up), Coetzee (chance to nail down full time Griffins roster spot), Smith (possible call-up), and Lashoff (coming off injury and outside chance at NHL call-up). Expect the Regina, Saskatchewan native to be a late addition if there is an injury or if the Red Wings opt to sit Smith.