Red Wings Invite Seven to Traverse City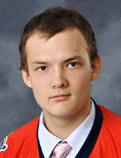 The Detroit Red Wings have invited seven free agents to their annual prospects tournament in Traverse City beginning Sept. 10.
Among those auditioning for contracts are former Red Wings draft choices Nick Oslund and Bryan Rufenach, who are unlikely to be signed by the August 15th deadline for college prospects. Additional tryouts will be announced when the main training camp roster is finalized.
Following is a review of the preliminary invitees (listed alphabetically).