Training Camp Alumni and Celebrity Roster Announced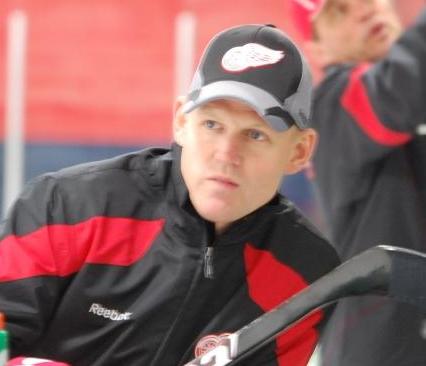 The roster for the Alumni and Celebrity game scheduled for 7:00 pm  on September 14th is below. All players and teams are subject to change depending on availability. Special jerseys will be designed specifically for the event and a silent auction for the game worn jerseys will take place for those attending the game. All proceeds from the event will support Centre I.C.E. and the cost of the event.
Remaining Tickets for the event can be purchased via fax and range from $20-$30. For more information on this event and the Red Wings training camp, click here.
Dr. John Finley will also be on hand on September 14th to sign copies of his book, Hockeytown Doc: A Half Century of Red Wings Stories from Howe to Yzerman. Finley served as the Red Wings team doctor for nearly five decades and he shares stories of some of the more notorious sports injuries over the years.
RED TEAM (Coach Bruce Haralson)
Goalies:
35 Ken Holland
30 Chris Osgood

Skaters:
12 Hakan Andersson
25 Mike Babcock
21 Todd Beam
36 Kevin Clark
97 Ken Daniels
10 Andrew Dickson
17 Dallas Drake
37 Jeff Finley
04 Mark Howe
20 Sam Lites
14 Keith McKittrick
15 Glenn Merkosky
08 Marty Stein
29 Piet Van Zant
28 Tyler Wright
WHITE TEAM  (Coach Tom Renney)

Goalies:
31 Jim Bedard
29 Jeff Blashill

Skaters:
07 Eddie Ascione
15 Spiros Anastas
82 Brad "Dogg" Thompson
24 Chris Chelios
33 Kris Draper
02 Jiri Fischer
23 Kelly Harper
06 Ken Kal
18 Kirk Maltby
77 Ryan Martin
22 Jim Paek
27 Bill Peters
11 Len Quesnelle
20 Mickey Redmond
14 Mike Stapleton
04 Ari Vuori