Ouellet Ready to Build on Strong Season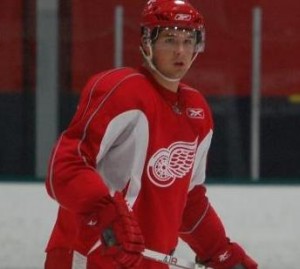 Xavier Ouellet has set the bar high for himself after an outstanding 2011-2012 season. The two-way defenseman scored 21 goals and 60 points in 63 games with Blainville-Boisbriand of the QMJHL. Ouellet accomplishments are even more impressive when you consider he was also serving as the team captain for the first time.
"I was a young captain at 18 years old," Ouellet said. "We had a good bunch of leaders with me so there was plenty of leadership. It was a nice experience and it worked out well."
The Red Wings, who had another year to decide on Ouellet's future, wasted no time and signed him to a three-year entry-level contract in March. The 48th overall selection in the 2011 NHL entry draft wasn't expecting a contract so soon and will likely return to the QMJHL for his final season this fall.
"I was surprised and really proud to sign a contract early," he said. "I have been working hard the last two years. It's exciting and I think I deserved it."
Detroit also signed defenseman Ryan Sproul, it's 55th overall selection in the 2011 draft at the same time as Ouellet. The duo is expected to begin developing together in 2013 and could form a solid blueline tandem down the road.
"I am happy for him," Ouellet said. "It's a long journey to the NHL and we are both working hard to make it. We are working together and maybe one day we will play in Detroit together."
For now though, the 6-foot, 187 pound defenseman is focusing on improving his strength and adding some much needed muscle. Ouellet is noticeably bigger after bulking up by about 10 pounds already this summer.
"I want to get stronger and add more muscle," he said. "I want to be physically ready to play in the NHL as soon as possible. It is something that is hard to do so I keep working at it."
It will be tough to top the season he had last year that  had some scouts calling him the most complete blueliner in the QMJHL. The Bayonne, France native was even nominated for the Emile Bouchard trophy awarded to the top defenseman in the QMJHL but lost out to Rimouski's Jerome Gauthier-Leduc.
"I was proud of my season so to be nominated was nice," he said. "We had a good team last year and I am hoping we can have a longer playoff run this year. My goal is to play in the NHL one day so these experiences will help me push for a job with Detroit one day. It is a long process so I want to be ready."