Opportunity Knocking: Athanasiou Seeking Expanded Role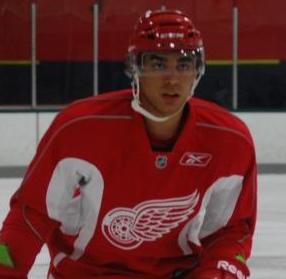 Give Andreas Athanasiou a few years of development, and he hopes he will be known as another Red Wings draft steal. The 17 year-old was projected by some to go as early as the first round of the 2012 entry draft, but Detroit nabbed him 110th overall.
"Coming into the season I was rated up there in the first round," he said. "I just didn't get the opportunity in London last year and I think that is why I fell (on draft day). I am happy now and to be part of the Red Wings organization is unbelievable. It is the best in the National Hockey League and it is such an honor to be part of it."
Athanasiou played in 63 games for the London Knights last season, but was limited to 5 or 10 minutes of ice time. He still managed to score 22 goals and 37 points playing sparingly.
"We had a deep team with a lot of forwards," Athanasiou said. "You just had to take your turn and it was just part of the game, but it was hard to be a healthy scratch. When I played I just tried to show them what I could do even with limited ice time. For the amount of opportunity I had, I think I produced well."
The 6-foot, 179 pound  left wing was also a healthy scratch during the Memorial Cup playing in just three games. Athanasiou wasn't able to produce consistently and was held pointless in two of his three games as London fell to the eventual Memorial Cup Champions, the Shawinigan Cataractes of the QMJHL.
"In the Memorial Cup I was a healthy scratch the first game and the next game I came back and had a goal and an assist," he said. "I bounced back and didn't let it effect my game. I tried to bottled it up and use it to my advantage and I think I played really well."
Athanasiou is expected to play a larger role in London's offense next season with many veterans not returning. He'll be given every chance to prove he can play consistently and earn top six minutes.
"I think it all comes to opportunity next year and if I get it, I will produce," Athanasiou said. "I just need to get stronger and improve my shot and I am focusing on those areas this summer. I want to come to camp in the best shape so I can earn a bigger role."
The London, Ontario native spent last week at the Red Wings development camp in Traverse City, MI trying to learn from his first professional experience. Athanasiou, whose father was born in Athens Greece and immigrated to Canada to become a commercial airline pilot, used his language skills on the ice with former Red Wing, Chris Chelios.
"Chelios and I were speaking Greek during the drills," he said. "He's been really welcoming towards me as has the rest of the organization. This is such a class organization and this week has taught me so much that will help next season."
Tabbed as one of the best skaters in the entire 2012 draft, Athanasiou showed his speed and offensive abilities by scoring twice in the first scrimmage and again in the final scrimmage of camp. The Red Wings hope his natural talent will translate into a future NHL player and they are hoping he can put the pieces together to eventually have an offensive impact.
"I'd like being a top six forward in the NHL," he said."If I make it, my goal is to be one of those players. I am confident I have the ability so if the opportunity comes I will make the best of it."