Transition Time: Mrazek Prepares His Game for the AHL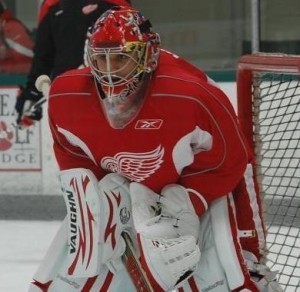 After a season filled with eye opening performances, Petr Mrazek is confident he's ready to earn a spot with the Grand Rapids Griffins of the AHL. The 20 year-old netminder signed a three-year entry level contract with Detroit in October that will take effect this fall.
"I can't wait to turn pro," he said. "It will be a transition but I am ready. I've been working hard for this for a few years now and it is exciting that the time is finally here."
Mrazek spent the last three seasons playing for the Ottawa 67's of the OHL. Last season he played 50 games and posted a stellar numbers including a 2.84 goals against and a sparkling .917 save percentage. Mrazek is a competitive goalie who is accustomed to facing  a lot of shots, but in Ottawa he routinely faced 40 shots or more and still managed to give his team a chance to win.
"Those three years in Ottawa were the best," he said. " I got the chance to play there every game. I know now I can step up and play pro hockey. It was awesome."
The highlight of the Ostrava, Czech Republic native's year was finally getting an opportunity to represent his country at the 2012 World Junior Championships in January. Mrazek had been left off two previous teams due to a contractual dispute with his former team, HC Viktovice.
"I couldn't play two years and I really wanted to," Mrazek said. "It was a big disappointment to be left off the team those two years. This year they gave me a chance to play and I wanted to show them what I could do. I think that was the best part of the season"
The 6-foot-1, 184 pound goalie had several show stopping performances at the WJC including a 52-save 5-2 victory over the Americans, but unfortunately his heroics weren't enough. The Czech Republic team eventually lost to the Russians in the quarter-finals eliminating them from gold medal contention. Mrazek's, who was named the tournament's top goaltender, became the talk of the tournament for his acrobatic saves and his exuberant on-ice celebrations.
"I didn't know I could be that crazy because I never do that," he said of his celebrations. "I was really fired up and the crowd was chanting my name so I wanted to do something for them. That happened once and I don't think that can happen again."
Mrazek's performance at the WJC combined with his impressive season in Ottawa was enough to earn him the third goalie spot for the Czech Republic World Championship team this past spring. Despite being the third string goalie, he still saw nearly ten minutes of action against the German team, stopping both shots he faced. The Czech Republic finished third overall after beating Finland in the medal rounds.
"It was great I got to play almost ten minutes and I want to thank the coach for putting me in," Mrazek said. "It was great just to be around lot of guys from the NHL from all different countries. It opened my eyes and showed me what it will be like next year. It was a great experience and a great year. I hope next year will be even better."