Finding His Game: Trevor Parkes Looks for a Fresh Start in 2012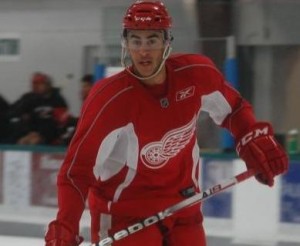 Trevor Parkes is hoping to rebound from a difficult first season as a professional hockey player. The 21 year-old played 44 games for the Grand Rapids Grriffins of the AHL scoring just 2 goals and 8 points.
"It was definitely an adjustment going to the pro level," he said. "There were highs and lows all season long and it was a little difficult to get used to going in and out of the lineup."
Parkes had higher expectations for himself after scoring 33 goals and 62 points during his final season with Montreal of the QMJHL in 2011. But the 6-foot-2, 188 pound right wing struggled playing against the bigger and quicker players in the professional leagues.
"In the AHL you're definitely playing against men out there," he said. "The toughest thing was the speed of the game, not so much the skating, but the quick decisions and the strength needed to play at that level. It was an adjustment that took some time for me to adapt to."
With Parkes struggling early in the season, the Red Wings sent him down to Toledo of the ECHL for four games in December hoping he would find his scoring touch. The Fort Erie, Ontario native delivered with 4 goals and 17 shots in 4 games and earned a promotion back to Grand Rapids.
"Going down to Toledo helped me get my confidence back," he explained. "I started playing better and it helped me bounce back. Unfortunately, that shoulder injury that knocked me out of the final 16 games set me back a bit."
Parkes, who is finally healthy again, is no stranger to adversity. He was passed over in two OHL drafts and even passed through OHL waivers before earning a walk on spot with Montreal in 2009. He was also overlooked at the 2010 NHL entry draft but earned a tryout with the Wings and eventually signed a three-year entry-level contract.
Heading into his second season with the Griffins, Parkes is using his difficult rookie campaign as motivation. He's been focusing his off season training on building his strength and he has already added ten pounds of muscle to his lanky frame.
"I got my feet wet last year and now I know what to expect," Parkes said. "I want to get bigger and stronger so I can be a net front presence guy. I want to be a guy in the corner who can use my body and protect the puck, so the extra muscle will help. I've also been working on my speed and skill so I can score more at the pro level like I did in junior."
The hard working forward is hoping his efforts will help the Griffins bounce back after failing to make the playoffs for the third straight year. The team will get a new look under the direction of new head coach Jeff Blashill, who spent last season as an assistant coach with the Red Wings.
"It's kind of a new start for all of us and we have a chance to prove ourselves," he said. "We'll have a young team again next season, but we want to have a big push to the playoffs. Last year the whole city wanted us to make the playoffs so it was a let down when we couldn't get it done. We know what to expect now, so there are no excuses anymore."