Long Term Planning: Ben Marshall Willing to Wait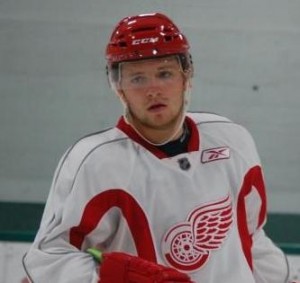 Ben Marshall isn't in any hurry to play for the Detroit Red Wings. The 19 year-old is at least three years away from playing professional hockey and he's more than willing to take the long road.
"That's the big thing the Red Wings focus on is taking a slower road," Marshall said. "They wait a long time for their players. I still have some development to do so I am just focusing on working hard and getting better."
The St. Paul, Minnesota native just finished his rookie season at the University of Minnesota where he contributed 4 goals 13 points in 41 games. Marshall spent the previous season with the Omaha Lancers of the USHL and finishing sixth among all USHL defensemen in scoring with 11 goals and 32 points.
"It was a bigger jump then I thought going from the USHL to college," he said. "In college the guys are not only bigger and faster, but they are also smart too. I think that was the biggest transition."
Size has always been a concern for the 5-foot-9, 175 pound defenseman, but he's hoping his other skills offset his small stature. Marshall is a dynamic skater with a top flight speed and outstanding offensive instincts.
"Obviously I don't have the size that a lot of these other guys have," he said. "My biggest attributes are my speed and my skating, but I know I need to work on my strength. I took about two weeks off after the season but have been lifting weights all summer."
Marshall has spent the last week at the Red Wings development camp in Traverse City, MI. This is his third camp since being drafted by the Wings 201st overall in the 2010 NHL entry draft.
"I was still in high school during my first camp," he said. "Now I have a year of junior and college under my belt and I am a little more confident. It also helps that my roommate this week is Brenden Smith and he's giving me a lot of insight about the Red Wings and what his journey was like."
While Marshall's offensive game is his strong suit, he is working to improve defensively. Finishing his rookie campaign with a plus-13 was a solid step in the right direction but he'll need to show he can be even better while taking on a larger role next season.
"My defensive game has come a long way," he said. "My coach at Minnesota, Mike Guentzel, taught me a lot of details that help defensively especially at the college pace. It's really helped me to adjust positionally. I still have a lot of work to do, but the good thing is I have plenty of time to improve."