Breaking Out: Andersson Seeks Offensive Production on the Farm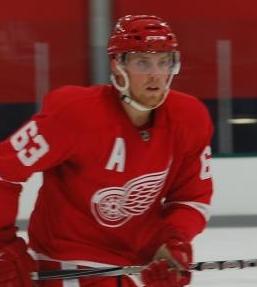 Joakim Andersson quietly had a very good prospect tournament for the Detroit Red Wings. The soft spoken Swede centered the top line alongside Gustav Nyquist and either Willie Coetzee or Tomas Jurco. Nyquist and Andersson were particularly good together with Andersson scoring two goals and three points.
"I played a little bit with Gustav on the Swedish National team when we were 17 or18," Andersson said. "I enjoyed playing with him back then too. He's just a smart skilled player and he likes to move the puck. That's the way I like to play too."
Having a fellow Swede in Grand Rapids should help both players next season. The 6-foot-2, 205 pound center admittedly struggled last year in his first season in North America. Andersson scored just 7 goals and 22 points in 79 games.
"I had a rough start point wise last year," he said. "I had a hard time with the game at the beginning of the year.  I found the game and I did pretty good after Christmas. I hope to produce a little bit more offensively then I did last year."
The 22 year-old forward admits that the adjustment to the North American game and the smaller rinks took him a while to get used to. He enters this season with a better understanding of the Red Wings systems and North America.
"I understand the style of game in Grand Rapids and Detroit now," he said. I feel a lot more comfortable on the ice and outside the rink too. I know what it is all about now."
The Munkedal, Sweden native spent the off season working on his strength and conditioning. He also focused on improving his skating as he is well aware that it will need to improve if he wants a shot at the NHL one day.
"Everybody has been talking to me about my skating since I was 15," he said. "I have heard it all the time so I just keep improving it. I work hard on it during the summers and even the winters. It takes time, but I am improving every year."
With a log jam of forwards in Detroit, Andersson knows he has little chance of making the opening day roster with the Red Wings. He hopes a strong training camp and preseason will make the decision tough for the Wings and perhaps move him to the top of the list for potential NHL call-up duty.
"I would love to play some games in Detroit this year," Andersson said. "That's why I am here to play in Detroit, but it's good for my development to play in Grand Rapids and get lots of ice time in different situations. That's the way I am going to make the Detroit Red Wings."