Hurricane Warning: Jeff Skinner Takes the NHL by Storm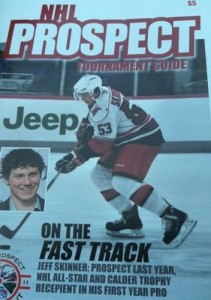 It was just a year ago that Jeff Skinner was just another prospect trying to land an NHL job. After a whirlwind rookie season which saw the 19 year-old forward net 31 goals and 63 points, he'll start the upcoming season having locked up a spot on Carolina's top two forward lines.
"It's a little overwhelming when you step back from it and realize everything that has gone on," Skinner said. "When I look back at the whole year it's been crazy and fun. I went from being drafted to playing in the NHL with the best players in the world."
The 5-foot-11, 193 pound forward has come a long way since surprising many by being selected seventh overall selection in the 2010 NHL entry draft.  Some experts including the Central Scouting Bureau didn't even have him rated as a first round selection.
"There are so many distractions that you can get caught up in things that aren't necessary so  I didn't pay attention to that stuff," Skinner said. "Going into the draft, I knew Carolina liked me and I met with them the day before. It was a still a little bit surprising, nerve wracking and exciting to go so high."
In the months following the draft, the Markham, Ontario native spent countless hours working on his strength and conditioning heading into his first NHL training camp. First though, he would get a chance to play against some the league's top prospects in the NHL prospect tournament hosted by Centre I.C.E. Arena in Traverse City, Michigan.
"Going into the tournament you realize it is one of the first times that management sees you at the next level where you are playing against older guys," he explained. "I went into it knowing that it was going to be competitive and a lot of fun. I just tried to relax and work my hardest."
Skinner didn't waste his first opportunity to impress Carolina management, finishing the tournament first in the points race (2 goals and 7 points in four games) with New York Ranger's rookie Derek Stepan. His performance lead the Hurricanes to a third place finish over the New York Rangers.
"The tournament was a great experience," Skinner said.  "Obviously it's a young guy's first taste of the next level. I just wanted to be one of those guys that management was looking at as a potential player. It helped me prepare for the main camp and it gave me game experience that I needed."
Skinner was able to build on his strong showing at the NHL prospects tournament and eventually secured an NHL roster spot, spending much of the season on the top two forward lines. The rookie forward was so impressive that he was named an injury replacement for the NHL All-Star game in January.
"It was a really cool experience for me to have and I am grateful I got the chance," Skinner said. "The whole weekend was really well organized and the new draft format was a lot of fun. Playing in front of the home town crowd was a bit of a bonus for me."
Getting a chance to play among the league's elite players would have been highlight enough for some players, but it was just the start of Skinner's accolades. The former Kitchener Ranger led all rookies in points with 63 and finished the season among the top 25 goal scorers. He was named the rookie of the year and became the youngest player in NHL history to win the Calder trophy.
"It was an honor to be nominated considering how great the other nominees played," he said. "I was shocked when I heard my name called and then to later learn that I was the youngest player to win it was even more meaningful. It was a great way to end the year."
With all his success the past year, Skinner hasn't forgotten where it all started. His rapid rise to success should serve as an inspiration for years to come.
"When I look back at the whole year I remember people started telling me in Traverse City to just have fun and play my game," Skinner said. "That is what I tried to do all year long. [The Tournament] is a  high pressure situation for any player, but it is also a great opportunity.  As a young guy that is the place you want to be – showcasing your skills and proving you are a potential NHL player and hopefully earn an opportunity like I did."
*** Editors Note: This is a reprint of the Article I wrote for the 2011 NHL Prospects Tournament Guide. Thank you Jeff Skinner and the Canes organization for the interview!