Slow Road to the NHL Fine With Jurco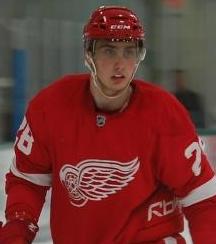 This wasn't the performance that Tomas Jurco had hoped for heading into the 2011 NHL Prospects Tournament. The 6-foot-2, 187 pound forward suffered a minor hip flexor injury in just the second tournament game limiting him to two shifts in the final period against the Minnesota Wild on Sunday.
"It feels better today," Jurco said of his injury. "I didn't play two games just to not get it worse. I hope I will be alright for main camp then I can show all I have."
In his two tournament games, the Kosice, Slovakia native played on the top line along side Joakim Andersson and Gustav Nyquist. Jurco was held scoreless in both outings, but with his offensive talent and skill it was only a matter of time had he remained healthy enough to play.
"I think we were a good line," he said. "I really like playing with those guys. We are three Europeans together and I think that helped us have chemistry."
The 18 year-old forward's skills have many fans excited about his potential. His YouTube videos have been viewed by thousands, and many who saw him practice in Traverse City may have caught a glimpse of him working on some of his stick handling tricks. One in particular involves him whipping the puck high into the rafters, twirling his stick in the air, and then catching the stick quick enough to catch the puck on the stick blade.
"When I have some time to be free on the ice for a bit after practice, I like to do stuff like that to get better at stick handling," he said. "Sometimes I go shoot some pucks or just skate. It's not always crazy tricks."
Jurco's stick handling ability has caused some to compare him to current Red Wing, Pavel Datsyuk. While he does possess jaw dropping talent, he's also the first to admit he's currently not close to being the player Datsyuk is.
"There is only one Datsyuk and he's a great player," Jurco said. "It's an honor for me to just be mentioned with his name. What he has already done in the NHL is far ahead of me and if I could just come close to him that would be great. I will do my best but we will see in the future."
For now the 35th overall selection in the 2011 NHL entry draft is just happy to be part of the Red Wings organization. He's prepared for Detroit's slow development approach and is ready to learn from the veterans once main camp opens specifically citing his excitement to meet Datsyuk and Zetterberg.
"Detroit is a really good organization with a big big history with all those great players," Jurco said. "They have lots of Europeans and lots of skilled players I hope at one point I am going to get there. It was unbelievable for me to be drafted by them and I will do my best to make the team one day."
The Red Wings brass will more than likely ship Jurco back to his junior team, the Saint John Sea Dogs of the QMJHL next season. The gifted winger was a big part of the Sea Dogs run to the 2011 Memorial Cup after scoring 31 goals and 56 points during the regular season and adding 6 goals and 18 points in 19 playoff games. This years team is expected to be competitive again and could repeat as Memorial Cup champions
"I think we have a pretty good chance to repeat," he said. "We have basically the same team as last year except only a couple of guys won't be back. I hope we will have a good season so we can have a chance to win again."