Under the Gun: 2011 Training Camp Edition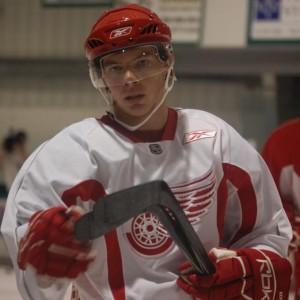 When the Red Wings open their 2011 prospect tournament and training camp in Traverse City in a few weeks, there will be several players with a lot to prove. Jiri Hudler and Jonathan Ericsson are obvious candidates, but the pressure and competition will extend beyond the NHL roster with players fighting for positioning across the organization. The Red Wings love having these types of battles at training camp to put pressure on players and get the best possible performances. Below is a list of player who will enter this years main camp and prospect tournament on the hot seat.
1. Jiri Hudler – It's no secret that the Red wings had hoped for a far more production from the struggling Hudler last year. Held to just 10 goals and 37 points last season, the 5-foot-10, 180 pound forward has been rumored to be a potential trade candidate after a dismal return to the NHL. The 27 year-old forward is in the final season of his contract and will becomes an unrestricted free agent next summer.
2. Jonathan Ericsson – The 6-foot-4, 220 pound defenseman received a nice raise in the off season by inking a three year deal that averages $3.25 million per season. The Wings have loved the 27 year-old's potential since they drafted him and have invested a lot to develop him, but are now clearly expecting him to take the next step and help solidify the defense core. With the retirement of Brian Rafalski and the departure of Ruslan Salei, Ericsson has an opportunity to prove that the Red Wings made the right decision in re-signing him.
3. Thomas McCollum – There is no prospect in Detroit's system who needs to make a strong statement more than Thomas McCollum. After struggling the last two seasons splitting time between Grand Rapids (AHL) and Toledo (ECHL) must reassert himself as a prospect. The Wings drafted the 6-foot-2, 210 pound netminder for his size, positioning and mobility but his development has stalled and his confidence is slipping. Hopefully working with new goaltending coach, Chris Osgood will have a positive impact on McCollum.
4. Cory Emmerton – The Wings are hoping Emmerton can earn a roster spot out of camp, but he'll have plenty of competition from Gustav Nyquist, Tomas Tatar, Fabian Brunnstrom, Chris Conner, and Joakim Andersson among others. Emmerton cannot be sent to Grand Rapids without going through the waiver process and judging what happened to Mattias Ritola last season, the Wings would rather not risk losing him. The 23 year-old forward played two games in the NHL last season, but will need a strong camp to prove to the Wings that he is NHL ready.
5. Mike Commodore – The Red Wings are looking for a steady stay at home defender to round out their bottom pairing and they are hoping that this is exactly what Mike Commodore will provide. The 6-foot-4, 225 pound defenseman struggled with injuries last season while playing for Columbus and eventually played 11 games with Springfield of the AHL. Commodore will face competition for ice time from Ericsson, Jakub Kindl, and possibly Brendan Smith.
6. Brendan Smith –  Smith will likely play in the NHL this season, but it won't be to start the season. The Wings will give Smith a chance in Detroit at the first sign of injury. The former 27th overall selection in the 2007 NHL draft has an outside chance to make the Red Wings out of camp and he will be counted on to make the defense competition interesting. If Smith ends up in Grand Rapids, look for him to play major minutes for the Griffins.
7. Logan Pyett – Much has been made of Cory Emmerton and Jan Mursak's waiver status, but Logan Pyett is in a similar situation. Despite resigning with the Red Wings in the off season, the 5-foot-10, 200 pound defenseman doesn't have much of a chance to play in Detroit this season. Pyett will need training camp and preseason to show the Wings brass that he has an improved defensive game if he ever wants an NHL shot. This season, however, he will likely be exposed to waivers before heading to Grand Rapids at the end of the preseason schedule.
8. Drew Miller – Even though he re-signed with the Red Wings for two more years earlier this offseason, Miller still hasn't cemented his roster spot. The 27 year-old grinding forward will face plenty of competition from Jan Mursak, Cory Emmerton, Patrick Eaves, and free agent tryout Brunnstrom. Miller will need a strong camp and preseason to secure his playing time for the Wings.
9. Landon Ferraro – Ferraro enters his rookie professional season in desperate need of a fresh start. The  6-foot, 171 pound center has struggled to find consistent offense the past two seasons in the WHL. Injuries are partially to blame for Ferraro's struggles, but the Wings are hoping all of that is in the past. The 20 year-old forward will need a strong training camp and preseason to earn a roster spot in Grand Rapids and re-establish him as viable prospect.
10. Jakub Kindl – In his second full season in the NHL, Jakub Kindl faces another tough battle for ice time. With the additions of Ian White and Mike Commodore, the 24 year-old needs a strong camp and preseason to move ahead on the depth chart. Kindl played in 48 NHL games last season and got much stronger as the season progressed. Detroit brass would be thrilled if he beat out a veteran to earn a full time roster spot.
11. Brooks Macek – With Louis Marc Aubry already signed and Petr Mrazek all but a lock to sign, Macek remains the only 2010 NHL draft selection playing in the CHL who's status is uncertain. The 19 year-old forward will need to increase his offensive production with Calgary of the WHL in order to earn a contract this spring.  He could begin making his case at the prospect tournament and Wings training camp with strong showings.
12. Jan Mursak – The Red Wings have penciled Mursak's name in for a roster spot in Detroit. The 23 year-old forward saw 19 games of NHL duty last season and didn't look out of place using his speed and skating skills on the third and fourth lines. Mursak has a real opportunity with the retirement of Kris Draper and the departure of Mike Modano to earn a regular roster spot. He'll push Drew Miller, Patrick Eaves, and Justin Abdelkader for playing time.
13. Justin Abdelkader – Detroit hopes the best is yet to come from Justin Abdelkader. The 6-foot-2, 203 pound forward has proven to be an excellent utility forward for the Red Wings who can help balance the bottom two lines. Entering his third full season, Abdelkader needs to continue to play the gritty defensive game while also eliminating the costly mistakes. He'll need a strong camp and preseason to show he's ready for the next step.
14. Joakim Andersson -It's a critical year for Joakim Andersson's development. While the 6-foot-2, 205 pound Swede isn't in the running for an NHL roster spot, he could earn an NHL call-up with a strong camp leading into the start of the AHL season with the Griffins. Andersson will need to pick up his offensive game when he return to Grand Rapids this season, but the Red Wings still have high hopes for the 22 year-old.
15. Sebastien Piche – It's now or never for Piche. The 23 year-old defenseman is entering the final year of his contract and has failed to land a full time AHL slot. Piche is a puck moving defenseman who needs to improve his skating and defensive decision making to take his game to the next level. The former QMJHL all-star will face heavy competition in Grand Rapids but he must show tremendous growth if he has any shot at re-signing with the Wings.
16. Niklas Kronwall – The 30 year-old Swede is entering his final season with the Wings before becoming an unrestricted free agent. While the Red Wings will make every attempt to sign him, Kronwall needs a strong start to the season to earn the type of contract extension he's likely expecting. The 6-foot, 192 pound defenseman needs to continue to show his durability by remaining healthy.
17. Andrej Nestrasil – The Red Wings were clearly on the fence about Andrej Nestrasil's pro potential waiting until the last moment to ink the 20 year-old. The 6-foot-2, 200 pound winger should use both the prospect tournament and main camp to prove he's ready for AHL duty. Nestrasil's weakness has always been his skating and acceleration, but if he's able to show improvement he could nail down a Griffins roster spot.