The Benefactor: Osgood's Retirement Will Help McCollum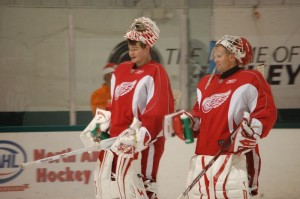 Despite announcing his retirement, Chris Osgood will still be expected to provide at least one more big save for the Red Wings. This time, however, that save won't be on the ice but rather helping to rebuild the confidence of goalie Thomas McCollum.
Much is expected from the 21 year-old McCollum as he enters his third season as a professional. Unfortunately his lack of development last season left the Red Wings with few options other than to re-sign Joey MacDonald earlier this month. While the move adds depth to the organization, it also signals that McCollum will  face fierce competition for AHL starts next season from MacDonald and Jordan Pearce. McCollum has all the technical skill and attributes to develop into a top notch goalie, but he is lacking mental focus and confidence. The former 30th overall selection in the 2008 NHL draft hasn't been able to show he can handle high pressure situations and is still looking to cement a starting AHL role next season let alone showing he still has NHL potential
As Detroit's newest goaltending coach, Osgood, could provide enough mentoring and advice to help McCollum move forward. The 38 year-old former goalie has some impressive credentials he brings to his new role including 401 NHL wins and three Stanley Cup Rings. Unfortunately Osgood's career will always be dogged by those who remember him for those occasional goals allowed from center ice. Even with all the chatter around Osgood throughout his career, his mental toughness was never questioned. He won the hearts of Detroit fans with his ability to bounce back after bad goals or performances and always seemed to rise to the occasion even under a heavy amount of media scrutiny.
While Osgood has always mentored young goalies in the organization during training camp, his new position will give him direct access to them throughout the year. His advice and knowledge could have a huge impact throughout the organization and it might just put McCollum's development  back on track in what appears to be a make it or break it season.