Joel Ward: Profile in Persistence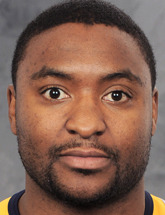 Quitting was never an option for Joel Ward.
 After years of toiling in the minors, the 29-year-old forward is a key contributor with the Nashville Predators. Ward's responsible defensive game helped him land an NHL job, and his offensive contributions – 30 goals and 69 points in the past two seasons – have cemented it.
Despite his success with the Predators, it wasn't long ago that the 6-foot-1, 218 pound forward was an undrafted free agent trying out for the Detroit Red Wings in Traverse City, Michigan. Ward participated in both the 2001 and 2002 NHL prospect tournaments and Detroit Red Wings training camps.
"It gave me a taste of what the NHL was like coming out of junior," Ward said. "You play against a lot of talented guys in the tournament and then to play with the Red Wings at Camp was a thrill. You get to play against that lineup of stars and playing against the best of the best shows that you can only get better."
As a young player on a tryout contract, Ward found the NHL prospect tournament both rewarding and unnerving. Scouts from across the NHL attend the games to assess the talent.
"You are trying to play the best you can and not make mistakes," he explained. "It's a small rink so you're looking up in the stands and seeing people with clipboards and sometimes you are wondering what everyone is thinking. I just tried to block that out and play my game as best as I could so (an NHL) team would pick me up."
After failing to earn a contract with Detroit, Ward opted to try out for the Minnesota Wild in 2003. It was his third trip in three years to the tournament hosted in Traverse City, MI.
"It was a little different playing for Minnesota instead of Detroit that year," Ward said. "The Wild did give me an opportunity to play and go to main camp which I thought was a great experience."
After the 2003 Wild training camp, the Toronto, Ontario native returned to Canada to complete his sociology degree while playing for the University of Prince Edward Island hockey team. Canadian university teams are not known for producing NHL players, but Ward didn't let that deter him as he put together several strong seasons and was named a three time MVP, conference all-star, and Canadian Interuniversity Sport All-Canadian.
After graduating, Ward wasn't ready to give up his NHL dream. So when the Minnesota Wild called with a contract offer in 2005, he jumped on it and eventually landed in the minors. A year later the defensive specialist got an NHL opportunity with an 11 game call-up.
"At the University I knew that if I was in the American League then I had a chance to move up and play in the NHL," Ward said. "I got a taste with those 11 games and it made me believe even more that I could play this game on a regular basis in the NHL."
With new found confidence, Ward was also looking for a new team in the summer of 2007 after becoming a free agent. He eventually signed with the Nashville Predators, expecting to see significant time in the AHL only to make the team out of training camp.
"I think at the time Nashville's depth wasn't as strong as other teams," Ward said. "Things started to click right away in training camp and a few things fell into place that opened up (roster) spots. I felt it was my best chance to play in the NHL."
Fast forward two years and it is hard to imagine a forward who fits better with Nashville's defense first system. Ward's work ethic and enthusiasm for the game have endeared him to teammates and fans alike making him hope for a long-term stay.
"I love this city and its fans. It's a place I want to be for a long time and maybe I can help bring a Stanley Cup to Nashville someday," Ward said. "I think I have played in every league from junior to university to minors, but I feel at home here."
While Ward's focus is on remaining in Nashville, his long journey to the NHL serves as a reminder of the effort it took to get there. So it was fitting that he was the Predators nominee for the Bill Masterton trophy last season which is awarded to the NHL player who "best exemplifies the quality of perseverance, sportsmanship, and dedication to hockey".
"I was obviously honored to have been nominated," Ward said. "You work hard and hope good things to come from it. It goes to show that dreams do come true."
Editor's note: This article is a reprint from a version that ran in the 2010 NHL Prospects Tournament program. I am re-running it today in honor of Ward's introduction as a Washington Capital after signing a lucrative free agent contract.