Defensive Gains: Jurco Contributing More Than Offense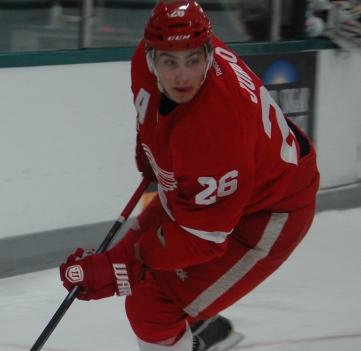 Tomas Jurco is trying to become a complete player for the Red Wings. The 6-foot-2, 193 pound forward made a successful transition from the QMJHL to the AHL last season. In 74 games with Grand Rapids, he scored 14 goals and 28 points. The numbers, while not staggering, are impressive considering he was one of the youngest players in the league last year.
"Jurco was really young in our league last year and in the first half he had some struggles," coach Jeff Blashill said. "I thought he was great the whole second half and the playoffs. He's also added an element of physicality and he shows lots of edge and he isn't afraid to stick up for himself. He's a great kid with a great future."
The Slovakian native is known for his offensive exploits which saw him pile up 30 goals and 68 points in 48 games with the St. John Sea Dogs in 2011-2012. While the hope is that Jurco continue to use his offensive gifts, the Wings would also like  him to strengthen his tw0-way game.
"If your not a complete player you probably have no chance to play in the National Hockey League," Blashill said. "All the players now are complete players and it helps them win. If you want to play in Detroit then you have to focus on defense and Jurco understands this."
If his play during the 2013 NHL Prospect Tournament is any indication than his defensive game is a vastly improved. Jurco, who also notched 2 goals and an assist during the four games, played top line minutes and saw action in all situations. The 20 year-old also was a leader on the ice helping earn the organization its first tournament championship in 13 years.
"It was a big tournament for me to prove that I can play a defensive role," he said. "I am really happy that I think I was able to show that. They know I can be good offensively, but I have to prove my defensive side and I think I did that during the tournament."
The Tournament also provided Jurco with an opportunity to show he is ready for more responsibility next season in Grand Rapids. With the departures of Joakim Andersson, Tomas Tatar and Gustav Nyquist, the talent forward will be given every opportunity to earn a larger role.
"I am going to have a bigger role in Grand Rapids," he said. "I will be on the first power play and first line. It is going to be harder because I have to play against the best defensemen on the other team, but I think I can handle it. Hopefully I can show that I am ready to be one of the first guys called up [to Detroit] if someone gets hurt."
Jurco, who added eight pounds of muscle in the short off season, is focused on helping Grand Rapids have another successful Calder Cup run this year. The dynamic forward has been a winner at every level – including at the NHL Prospects Tournament – and hopes to continue the trend next season and beyond.
"It's weird I just win everything," he said laughing. "I don't know how, but it's good for me, I am glad. I have to knock on my head because the next step is the Stanley Cup and I hopefully will in that too in n a couple of years."