Red Wings Finally End Tournament Drought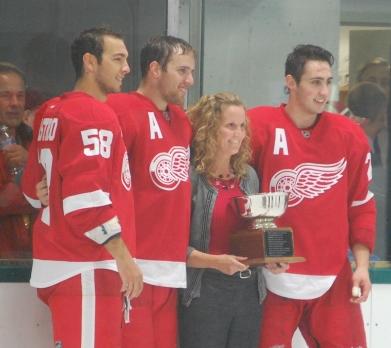 The Red Wings won their first NHL Prospect Tournament Monday night beating the defending champion Buffalo sabres by a 4 – 2 margin. Detroit, who has hosted the tournament since 1998, has played in the final three times but wasn't able to win until tonight's victory.
"It was a fun tournament," coach Jeff Blashill said. "There were lots of real great players in the tournament and I thought our guys did a good job of competing on a shift by shift basis. The scouting staff in Detroit has done an unreal job finding really good prospects and good character guys."
The Wings had big contributions from 2013 draft picks Anthony Mantha (2 goals and an assist) and Zach Nastasiuk (1 goal). Both players were competing in their first prospect tournament for Detroit.
"It wasn't just the two of us," Nastasiuk said. "It was a team effort. We may have scored the goals, but Coreau did a great job in net and our defense was strong tonight."
Mantha, who was awarded the game puck by the players for his effort, was also quick to put out the team effort.
"Any player could make the difference," Mantha said. "We are all great players and I think Zach and I just stood out tonight. It is a great group of guys and we battled hard tonight to get the win."
Tomas Jurco scored an empty net goal late in the final period to cement the championship. It was his second goal of the tournament which saw him emerge as a leader on and off the ice.
"It's great to be the first team to win it for Detroit," Jurco said. "Each line was playing great and had chances. We had maybe four practices total and it didn't look like that on the ice. It is only good for the organization to have such great prospects."