Mantha: Ascending the NHL Learning Curve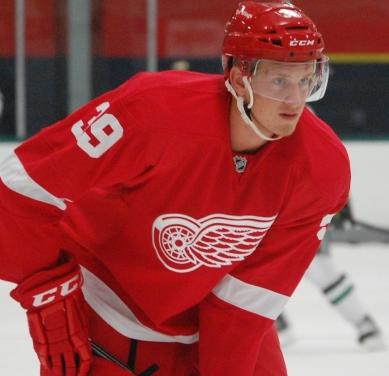 Anthony Mantha is getting a crash course on professional hockey during his first few months in the Red Wings system. The 18 year-old is playing in his first NHL Prospects Tournament and has helped the Red Wings take a commanding lead of the Howe Division. Mantha, who has been held to just a single assist through two games, has had plenty of offensive opportunities playing along side Martin Frk and Calle Jarnkrok.
"It's just fun playing with those two guys because they are so good with the puck," he said. "We've had our chances but haven't been able to score, but I think we've played well.
The 6-foot-4, 190 pound forward hasn't looked out of place playing against some of the tournament's top talent, but he has had to adjust to the speed of the game.
"The pace out there is fast," Mantha said. "The guys are fast and the execution is also fast so the first period of the first game I was trying to get used to it. Then as the second and third period went by, I was in the game and I think it went pretty well."
It's been a whirl wind for the Longueuil, Quebec native since the draft in June that saw him fall to the Red Wings late in the first round. Mantha, who was rated the 10th best North American skater by Central Scouting, had no idea Detroit was interested.
"There were a few teams who looked more interested than the Red Wings, but as I came up to the stage one of the scouts told me 'I told you we would get you'," he said. "He had told me that during an earlier interview. It was a great feeling to go 20th overall and becoming a Red Wing was just a great moment."
Immediately following the draft, Mantha joined many of the organization's prospects at the development camp. It was his first exposure to the Red Wings and their development process.
"The camp in June helped me to understand what it takes to be a Red Wing," he said. "I learned what I need to do to get better. It made me realize I need to work harder to make it to the next level."
Mantha, who has been knocked by some scouts for his lack of intensity and consistency while playing for Val d'or of the QMJHL, is hoping to prove them wrong using what he's already learned from participating in the Red Wings development and training camps.
"Maybe last year at the beginning of the year those things would have been right," he said. "As the year went on, I worked on it a lot and I think right now I am better. I'm not perfect, but I think it's getting better and these camps have helped me a lot."
With two important games left in the tournament, Mantha is trying to remain focused on helping the Red Wings win their first ever championship. But he can't help but be excited about participating in his first professional training camp next week.
"I am really looking forward to practicing with Pavel Datsyuk and Henrik Zetterberg," he said. "They are the best players in the league and I think I can learn a lot just by watching them. We have our last two games to play, but I can't wait for next week."
Mantha, who is planning to use training camp as another learning experience, hopes to impress the Red Wings brass enough to get a long look and maybe earn an exhibition game.
"I wanted to come to training camp with the mentality of trying to make the team this year because if you come  with negative thinking you definitely can't make the team," he said. "If it's not this year, I will come back next year with the same thinking even if I play one, two or three years in the AHL. They develop their guys well, so I am sure I will play for the Red Wings one day when they think I am ready."