Offensive Minded Pulkkinen Ready for the North American Challenge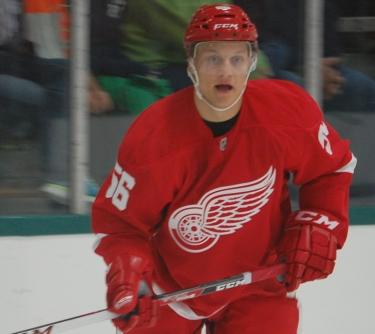 Teemu Pulkkinen knows he has a lot to learn on and off the ice in his first season in North America. The Vantaa, Finland native is entering his first full season with the Red Wings after spending his entire playing career in Finland.
"It's fun to be here," he said. "I am just getting used to the time difference and I know I need to work on my language. Of course I also have many thing in the rink that need work too."
The 5-foot-11, 183 pound left wing is blessed with a tremendous shot and he has plenty of offensive upside. Where he needs work is on his defensive game and skating.
"Pulkkinen has great offensive ability, but he'll have to continue to learn the defensive aspects," Griffins head coach Jeff Blashill said. "The thing I like about him is he cares a ton and he wants to be a player and he wants to win. He's got a great attitude and he'll continue to get better."
The 22 year-old showed off his offensive flair during the Red Wings 4-2 victory over the Dallas Stars at the NHL prospects tournament in Traverse City, MI where he scored a goal and an assist. Pulkkinen, who is tied for first in team point production along with Andreas Athanasiou, isn't satisfied with his play heading into Sunday's contest against the St. Louis blues.
"It's good that we won the game of course, but I wasn't that good today," he said. "I was way too slow and I made a couple of mistakes, but the good thing is that we won the game. It's nice to score, but honestly I could have been better and I hope to have my best game next time."
Pulkkinen will never win any skating competitions, but he's worked hard to improve his speed and leg strength in order to help him play a full season in the smaller rinks. Having spent the end of the season with the Griffins and getting a chance to play two regular season games and 14 playoff games, helped him understand what he needed to improve coming into this season.
"It was helpful for me to be in Grand Rapids so that now I know how it works," he said. "It helped me get used to the smaller ice and get to know the people. It was good to be there and learn from those guys."
The skilled sniper is concentrating on winning Sunday's match-up with St. Louis to hopefully earn a chance to play for the tournament championship. He also can't help but think ahead to participating in his first Red Wings training camp next week.
"I want to make the team, but I know that is going to be hard," he said. "I want to play in the NHL. That's a big dream for me, but I just have to work hard every day and we will see what happens."