September 8, 2013 Designated as Bryan Rufenach Day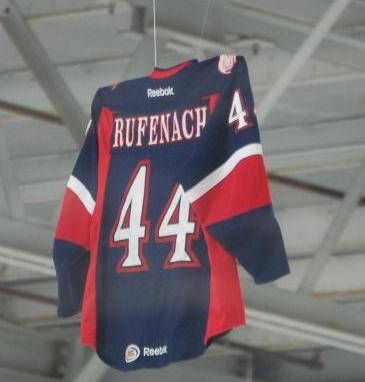 Organizers of the 2013 NHL Prospects Tournament and Detroit Red Wings training camp in conjunction with the Toledo Walleye Boosters Club have designated September 8, 2013 as the second annual 'Bryan Rufenach day'.  A portion of the proceeds of all ticket sales will benefit the Bryan Rufenach Just Skills Camp. The annual camp, based out of Lindsay Ontario and run by the Rufenach family, just completed its second year with over 70 participants between the ages of 7 and 12. Donations will help fund ice time and other costs associated with the five day camp and allow free participation to local hockey players.
Bryan Rufenach, who passed away tragically in the summer of 2012 while traveling through Europe, was a 23-year-old defenseman for the Toledo Walleye (ECHL) and the Grand Rapids Grifffins (AHL). He was also a 2007 seventh round draft selection of the Red Wings and played in the 2011 NHL Prospects Tournament.  During his last professional season, Rufenach collected 13 goals and 33 points in 54 games with Toledo. The Lindsay, Ontario native had previously spent four seasons with Clarkson University where he tallied 21 goals and 55 points over his collegiate career.
In addition to the ticket proceeds, the Toledo Walleye Booster Club will be on hand to raffle off several prizes including an autographed photo of Bryan on Military Appreciation Night. The NHL prospects games slated for that day include Minnesota vs. Dallas (3:00 pm), Carolina vs. Buffalo (3:30 pm), Columbus vs. New York (6:30 pm) and Detroit vs. St. Louis (7:00 pm). The Rufenach family is schedule to attend the even and a moment of silence will be observed in Rufenach's honor.
You can view the full prospects tournament schedule here.
 Full List of Auction Items from the Toledo Walleye Boosters
Chris Osgood autographed puck
Igor Larionov autographed puck
Nick Lidstrom autographed puck
Johan Franzen Autographed mini helmet
2010-2011 Toledo Walleye team signed puck
Justin Abdelkader signed puck
Joey Martin game worn Walleye jersey
Willie Coetzee Red Wings training camp jersey
Nick Vitucci "Heaven" button
Joey Martin "Heaven" button
Dan Watson "Heaven" button
Phil Oreskovic "Heaven" button
Willie Coetzee "Heaven" button
Jordan Pearce "Heaven" button
Bryan Rufenach autographed photo
Willie Coetzee autographed photo
Gleason Fournier autographed photo
Trevor Parkes autographed photo
Luke Glendening autographed photo