Andreas Athanasiou: NHL Ready or Not?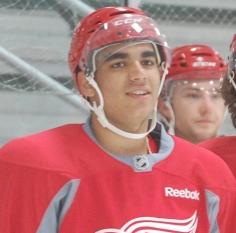 Andreas Athanasiou believes he is NHL ready. The 18-year-old understands that the Red Wings take thier time with prospect development and he's willing to wait for his opportunity.
"I know I have the ability to skate with the guys in the NHL," Athanasiou said. "I have the quickness and speed and I know I can think the game pretty well.  I think I am NHL ready, but obviously they take their time with players.
The 6-foot, 179 pound forward spent the past week in Traverse City, MI at the Red Wings development camp. Athanasiou, who started skating at 8 months old,  was easily the best skater in camp making many of the drills look easy.
"The drills were challenging," he said. "But when you grow up doing those things day in and day out  it comes naturally. My skating is a god given talent, but I know I still have to work at it and I do everything I can every single day to improve it."
The smooth skating winger spent last season with the Barrie Colts of the OHL after requesting a trade from London in the offseason. Athanasiou wanted and an expanded role and more playing time. He got it in Barrie playing top line minutes and increasing his point production.
"Asking for the trade was about opportunity," he said. "In Barrie I also have a hall of famer coach in Dale Hawerchuk. He is very offensive focused and I learned a lot of things playing for him. It's just a better fit for me and a better opportunity."
With more ice time, the speedy forwards offensive numbers nearly doubled. In 66 games with the Colts, Athanasiou scored 29 goals and 67 points up from 37 points as a member of the London Knights.
"If you did the math with the amount of time on ice and my production, it  is very similar," he said. "It's just that I had more opportunity in Barrie and I always make the most of my opportunities."
Athanasiou had more of an opportunity in the playoffs as well and he produced 12 goals 25 points in 22 playoff games. Despite his efforts, the London, Ontario native lost to his former team in game seven of the OHL playoffs with .01 seconds remaining on the clock.
"Losing that way was a bit of heart breaker and I think we deserved to win," he said. "Hopefully next year we can win it. I would love to end my junior career with a championship. I have been a winner my whole life, and the memorial cup is the only thing I haven't won."
With the playoff disappointment still fresh in his mind, Athanasiou joined the Griffins for part of their AHL playoff race. The experience helped him understand the difference between junior and professional hockey.
"I watched about two rounds in the playoffs," Athanasiou said. "Watching how they prepare and play was a good thing to see. I skated with them everyday and it gave me confidence that I could keep up with them. I just need to keep working on getting bigger and stronger to help me play at that level.
The 110th overall pick in the 2012 NHL draft has until next June to sign an entry level contract with the Red Wings. Anthanasiou will need another productive season to shake the questions of inconsistency and earn a contract with Detroit.
"I haven't really talked about a contract yet," he said. "I am just trying to show them what I've got every day. I know I have the ability to skate with the guys in the NHL and I am doing my best so that I can to get there as soon as I can."