Marc McNulty: A Work in Progress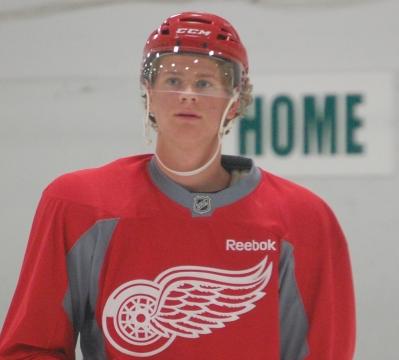 Marc McNulty wasn't sure he would even get drafted. So when the Red Wings made him the 169th overall selection in the June entry draft, the 18 year-old was thrilled.
"It was pretty special for me and my family," he said. "We sat and watched the first round and a the draft went on I tried to take my mind off of it. To hear my name called by Detroit was incredible because I didn't know where or if I was going to go."
McNulty is a raw package of size and mobility, who was drafted for his potential. The biggest knock on the two-way blueliner is his inconsistency and lack of intensity.
"The lack of consistency is something I have been hearing a lot," he said. "Anytime you hear that it is obviously something you want to think about and work on so it is I am going to look at."
The Moose Jaw Saskatchewan native has spent the past week at the Red Wings development camp in Traverse City, MI. The camp is helping him understand the development process and identify areas of growth.
"Camp has been a little bit tough," McNulty said. "I haven't been on the ice since the end of the season, but I am trying to learn as much as I can. The most important thing for me is working on my skating and adding strength. They are giving me the tools to improve."
The 6-foot-6, 185 pound defensemen is one Detroit's taller prospects, but like most prospects his age he needs to add bulk to his long frame. Even with his size advantage, McNulty doesn't currently play with a physical edge, but that is an area he hopes to improve.
"I am a big tall guy and I have a lot of filling out to do which will help with being physical," he said. "Playing physical is something I want to do more of and I think that will come with maturity. I am trying to add some muscle this summer and working with the camp trainers has emphasized the areas that I need the most work."
After the training camp this September, McNulty is expected to return to Prince George of the WHL. Last season the rangy defenseman scored 8 goals and 15 points in 52 games.
"I think my season was a little up and down last year," he said. "Obviously our team didn't perform the way we would have liked and we didn't make the playoffs. That was disappointing, but I think next year will be a different story for us. For me, personally, I am working hard this summer and the things I am learning here should really help me next year."