Weary Pulkkinen Soaking Up First Red Wings Experience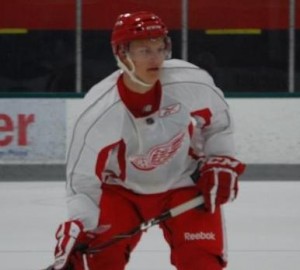 Teemu Pulkkinen traveled more than 22 hours on Friday to participate in his first Red Wings development camp. Despite the jet lag, the Vantaa, Finland native showed glimpses of his offensive talent during Saturday's opening scrimmage.
"I am enjoying it so far, but it's a little tough because I traveled yesterday," Pulkkinen said. "This morning we had some (fitness) testing and now this one hour scrimmage. It's a tough day, but I think every day is going to be better."
Pulkkinen, who was drafted 111th overall in 2010 hasn't participated in development camp before due to a combination of injuries and a demanding Finnish training schedule. He is expected to participate in Detroit's training camp and NHL prospects tournament this September.
"This camp is great and will help me in the fall when I come back," he said. "I am getting to know the staff and the organization. Traverse City is a beautiful place."
After signing a three year entry level contract with the Wings earlier this summer, Pulkkinen could be spending a lot of time at Centre I.C.E. arena in the coming years. The 21 year-old sniper is expected to play his final season in Finland before turning pro in 2013.
"It's a big thing for me," he said. "Signing a contract with an organization like Detroit is amazing. It's a good organization and I am excited."
The Red Wings signed the 5-foot-11, 183 pound winger because of his his dazzling offensive abilities. Pullkkinen, whose knack for finding the open ice combined with his lethal shot, has caused some scouts to compare him to hockey greats like Jari Kurri and Brett Hull. Last season alone he racked up 16 goals and 37 point in 56 games with Jokerit.
"I like to play an offensive game and to score goals," he said. "I like offensive players best, but I don't have any one special guy who I watch. I just watch different players and see how they play. Maybe I can add some things to my own game from watching them."
There is no denying Pulkkinen's offensive prowess, but his intensity has been called into question on more than one occasion. His 6 goal, 10 point performance at the 2012 World Junior Championship went a long way toward silencing his critics while also helping Finland to a fourth place finish.
"We were so close to getting medal," Pulkkinen said. "We were playing very good hockey up until the bronze medal game. Then we had bad luck in the semi final game against Sweden, it was disappointing."
He's proven that he can excel on the larger ice surfaces in Europe and on the international stage, questions remain about his ability to transition to the smaller rinks and the North American style of play. Not known for his rugged style, Pulkkinen could have a tougher time finding the open ice.
"In the North American style, there is little smaller rinks so you don't have so much space," Pulkkinen said. "When you have the puck, you have decide quickly what to do with it. You have to be ready all the time and I think I can be. It's a mental thing and I will be ready for that when the time comes."