The Back-up Plan: Depth in Goal a Concern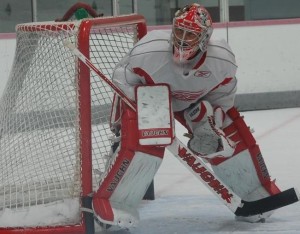 Ty Conklin had to wait 17 games before getting another chance to start for the Red Wings. Sunday's 4-2 loss against the Colorado Avalanche did little to secure his standing with the Red Wings. Conklin previous two starts came in late October and included a 7-1 loss to the Washington Capitals and 4-1 lost to the Columbus Blue Jackets.
Jimmy Howard, who's sparkling 1.83 goals against is fifth best in the NHL, hasn't made it easy for Conklin to earn starts with the Red Wings. Howard has been the teams undisputed most valuable player this season, but the coaching staff needs to be mindful not to over play the 27 year-old stopper. He's already started 21 of the Red Wings 26 games this season
When the Red Wings signed Conklin as a free agent this summer, they thought they had found a suitable replacement for the retiring Chris Osgood. The 35 year-old netminder was coming off a sub-par season which saw his goals against sink to .889 in 25 starts with the St. Louis Blues. The Red Wings were hoping for a rebound that still hasn't happened.
With Joey MacDonald the only viable option in the minors, the Detroit brass needs to address it's goaltending depth quickly. A tandem of Conklin/ MacDonald might be an adequate short-term solution, but if Howard is sidelined for any length of time the Red Wings playoff hopes will likely be lost with him. Goaltending is typically in short supply once the season starts, but the Wings should make every effort to upgrade now and not gamble at the trade deadline. If they don't upgrade, then their Stanley Cup hopes could be over before they start.