2012 Prospect Tournament and Training Camp Dates Announced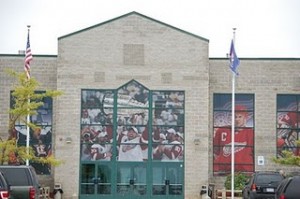 The Detroit Red Wings will be returning to Traverse City, MI to host their annual prospects tournament and training camp at Centre I.C.E. Arena in Traverse City, Mich.
The prospect tournament, which is scheduled for Sept. 15 to 19, will feature entries from eight teams including the Red Wings. The full schedule will be announced at a later date. Tickets are expected to be $5 per day and should be available on game days.
Training camp will begin Sept. 22 and run through Sept. 25 with morning practices, with ticket prices expected to run between $10 – $30. The red-and-white game concludes camp on Sept. 25th.  Similar to last year, the Red Wings will fly out of Traverse City for their first exhibition game against the Pittsburgh Penguins on September 26th. The team will return to Centre I.C.E. Arena on September 27th for a final practice session before returning to Detroit. No details on ticket sales have been announced, but stay tuned to the Left Wing Lock for information as it becomes available.