Part-time Demolition Man?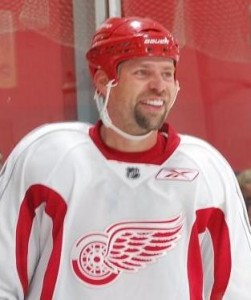 Just two games into Detroit's season, the writing appears to be on the wall for Tomas Holmstrom. The 38 year-old forward is entering his 14th NHL season with the Red Wings and he could break the 1,000 game mark this year. While the veteran forward was productive last season with 18 goals and 37 points, he's clearly in the twilight of his NHL career.
The 6-foot, 198 pound forward has never listed skating as one of his assets and his defensive game has been called into question at times. That being said, Holmstrom has made a career out of crashing the opposition net and is recognized by many as one of the best in the league at creating havoc for the opposing goalies. Despite his limited skating ability, the Pitea, Sweden native has frequently skated on the top two lines throughout his career and most recently he has played along side Pavel Datsyuk. Skating in just a single game this season, Holmstrom played mostly on the third and fourth lines while also getting some time on the power play.
During trainng camp, Coach Babcock referred to Holmstrom a "specialty teams player" and challenged the gritty forward to earn more ice time. For now though, the coaching staff is using Dan Cleary and Patrick Eaves on the top two forward lines in place of Holmstrom. While strategies change during the course of a season, it is clear that Holmstrom is starting the season getting less ice time and he could also be a frequent scratch especially during back-to-back games.
While the need to rest the veteran left wing will see him play fewer games, some early problems on the Wings power play may also force him off the power play. With other players emerging as adequate goalie screens like Johan Franzen, Dan Cleary and even Justin Abdelkader, Holmstrom could find himself forced off one of the top two power play units, at least temporarily. He'll eventually see time on one of the units as the season progresses, but unless he outperforms other forwards don't expect him to be the staple he once was.
The gritty forward is in the last year of his contract and there has been some speculation that he will retire at the end of the season. While his status for next year is uncertain, the Red Wings are already trying to find the balance between the veteran leadership he brings versus transitioning younger forwards into larger roles. Holmstrom is a valuable asset to have, but this season he faces a diminished role on the team and the question remains how he will handle the adjustment.