Turning the Page: Healthy Ferraro Ready For Next Step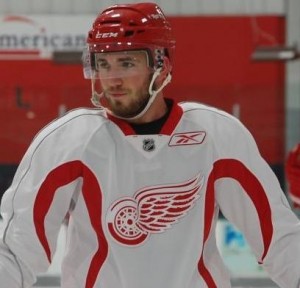 For the first time in two years, Landon Ferraro is starting the year healthy. Since being drafted 32nd overall by the Red Wings in 2009, he's battled one nagging injury after another which he admits have derailed his past two seasons.
"It was frustrating because I knew we had a good team and I knew I could help, but I kept getting injured," Ferraro said. "Every time I would get on a little roll something would happen. Hopefully all of that is behind me and I can learn from it at a younger age instead of when I am 24 and trying to make a push."
After an off season trade to Everett, Ferraro was excited to start his final WHL season. Just 10 games into the season he suffered a concussion which sidelined him for over a month. Shortly after he returned to the lineup Ferraro's groin started to bother him which lead to an MRI and an eventual Hernia surgery. All told the injury riddled campaign limited the 21 year-old to just 41 games.
"Last year was a bit of a wash," he admitted. "It's disappointing because I got traded to a team that was supposed to be pretty good and guys kept getting hurt. I wasn't exactly what they were looking for in a player because I only played in 41 games. It was a bit of a let down all around."
The 6-foot, 171 pound forward spent two full months after his hernia surgery rehabilitating his injury. Ferraro also put in a significant amount of time off the ice this summer getting stronger and he believes his hard work is already helping him.
"I feel the best I have ever felt as a hockey player," he said. "It seems to have paid off as my fitness test scores were more than double in some parts. For me it's easy to tell, I feel stronger on the puck. It's a real good feeling confidence wise and I am ready to see how it goes and seeing where I end up this year."
The Burnaby, British Columbia native isn't a lock to land a job with the Griffins this season. There will be plenty of competition and Ferraro will need to prove to the Red Wings brass that he is ready for the AHL. If not, he could see some time with Toledo of the ECHL.
"I feel confident that I can score at the next level and that I can play at the next level and contribute," Ferraro said. "I have to keep showing them that I am working hard and earn a spot there and I want to be there. If I end up in the ECHL I will be disappointed, but I will try and work hard to make sure I am the first guy called up when the time comes."
For now, Ferraro isn't worried about where he'll start the season. He's just enjoying every minute of training camp and working hard to possibly earn some playing time in a preseason game for Detroit.
"It's not something I get to decide," he said of potentially playing in a preseason game or two. "I just want to have a good main camp and hopefully I give them enough of a reason to put in for a game or two."
***
The lineup for the Red and White game scheduled for Tuesday September 20th at noon has been confirmed. Tomas Jurco remains in camp and will suit up for Team White. To view the full line-up click here.
***
the red wings announced that they have reduced their roster by 10 players. To view the cuts click here. Still remaining on the roster are Tomas Jurco and free agent try-outs Nick Oslund and Ramis Sadikov.
***
Team Howe defeated team Lindsay by a 6-3 margin. Team Howe was lead by Johan Franzen's two goal outing. Chris Conner had a goal and an assist as well. To view the complete box score click here.
***
Chris Conner is happy with two point outing, but knows he has more work to do. The 5-foot-8, 175 pound forward is facing stiff competition to earn a roster spot with the Red Wings.
"I am just going out there doing the best I can," he said. "I am obviously trying to put my best foot forward here in camp and get a good start. Hopefully I make them have some tough decisions when it comes that time."
***
Coach Babcock cite Conner along with Jan Mursak as two players who had strong outings.
"I thought Mursak was all over the puck," Babcock said. "To me Conner and Mursak today were on the puck big time and they were very good today. They were relentless, chasing, skating, and moving. To me today they were effective."
Coach Babcock also called Gustav Nyquist "impressive" and stated that Ericsson played very poised.
***
Coach Babcock is looking for Todd Bertuzzi to step up his physical play when the 2011-12 season gets underway.
"I want Bert to be as physical as he was the last 12 games of last year," he said. "I want him to the power forward who goes to the net. I want him to use his attributes – his size, his physicality, and his skill. I would also like Bert to shoot the puck a whole lot more and generate offense."
***
Johan Franzen's two goal outing was a good sign for the big power forward. The 6-foot-3, 218 pound winger had decent numbers last season (28 goals and 55 points), he went through long goal droughts and was partially hampered by injuries.
"It was good to see him score," Babcock said. "I thought the Mule was more aggressive in yesterday's practice the way he was skating. I was glad to see that because anytime a guys been injured you want to see him coming back and skating again. We need him to be a big time player, but he's very capable and he understands that."
***
Jimmy Howard sat out part of Monday's practice with bruised foot. He is expecting to play in Tuesday's Red and White game. Tomas Jurco is still suffering from a hip flexor injury suffered during the NHL prospects tournament but he has been able to play and he will also participate in tomorrow's Red and White game.
***
Editors Note: This will be my last report filed from Traverse City, MI as I return home tomorrow morning. I have had a lot of fun covering these past two weeks of hockey and I hope you have found the coverage useful and informative. Thanks for all your comments and support.