Crashing the Party: Parkes Aims For Grand Rapids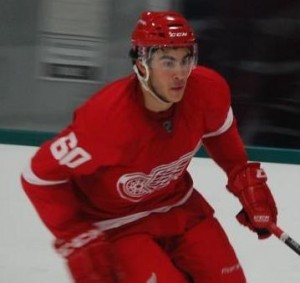 Trevor Parkes hasn't taken the easy road as a hockey player. The 21 year-old forward was passed over twice by the OHL and eventually accepted a walk-on tryout for Montreal of the QMJHL where he would not only earned a roster spot, but also became a key contributor. Despite his strong play during his draft year, Parkes went unselected. After the 2010 draft, he accepted a try-out with the Red Wings and earned a contract with his gritty hard working style.
"Getting that contract with Detroit means the world," he said. "It just shows a lot of hard work that paid off. I owe a lot to my trainers back home and it feels really good to get that contract. I am really happy with that."
After signing the deal with the Red Wings last fall, the 6-foot-1, 181-pound forward saw his confidence soar with Montreal of the QMJHL. Parkes, who played on the top offensive line last season, saw his numbers jump with 33 goals and 62 points on the year.
"Coming here last year I really didn't know what to expect and I just came here and gave it my all," Parkes said. "When I signed the contract I was pretty ecstatic. It gave me a lot of confidence heading back to my junior team last year and helped me have a successful season there."
Parkes, who was dealing with a bad back caused from a twisted pelvis last year, just finished his second NHL Prospects Tournament with the Red Wings scoring one goal and finishing a -3 through four games. Numbers aside, the intense forward's fearless style added a physical presence to Detroit that gave headaches to the opposition. Parkes is at his best when he is crashing the crease or banging bodies along the end boards.
"I want to get noticed for my physical play and show that is what I am going to do at the pro level," Parkes said. "I want to let them know that I am a big body who likes to throw my weight around and I can also put the puck in the net. I showed one side of my game but I would have liked to show the scoring side a little bit more."
While Parkes isn't playing for a contract this season, he knows there is no time to get comfortable. Detroit is stocked with quality forwards throughout the organization meaning Parkes might end up back in junior as opposed to playing for the Griffins.
"The goal now is to try and stay up in the pro and not go back to junior," Parkes said. "I want to stay in Grand Rapids, but right now it depends on the rest of my training camp. I have to keep banging and crashing and play like a pro and not like a junior guy."
With main camp getting underway on Saturday, the gritty forward at least knows what to expect this year. Parkes, who spent the off season working on adding muscle and improving his foot speed, hopes to make the Wings bass think long and hard about the decision on where he will play next season.
"Last year I would look around the room and not know what to expect," Parkes said. "This will be my second year and I know I am working for a job so I can't be in awe. I have to play like I belong and try not to be star struck."
While he doesn't want to focus on the negative, Parkes knows there is a chance he could end up back in Montreal for one more season. He'll compete with the other forwards for a limited number of Grand Rapids roster spots and he hopes his intense physical play will help him stand out.
"If that happens it happens," he said. "I will use the year to grow and get a little bit stronger and I will prove to them that I can play pro the next year.  It would be a step back, but hopefully I could regroup and build up my confidence a little bit more and have another really good season in junior. Hopefully it doesn't come to that though"