Ouellet Finds His Wings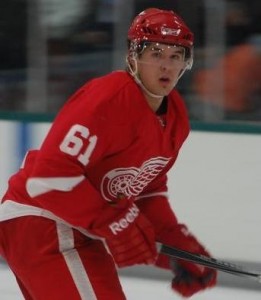 The Red Wings have had their eye on Xavier Ouellet for a long time. So when they acquired an extra second round pick in the 2011 NHL draft it was only a matter of time before they called his name.
"Everytime I talked to people from Detroit they were always telling me they were really high on Ouelett," teammate Trevor Parkes said. "It's good to have another Montreal junior with the Red Wings."
The 6-foot, 174 pound defenseman was thrilled when he was selected by the Red Wings. Not only was he excited about the organization, but the fact that fellow Montreal Juniors teammates Trevor Parkes and Louis-Marc Aubry already have contracts with Detroit made a good situation better.
"Being drafted was the best day of my life for sure and the Red Wings are one of the best organizations in the league," he said. "It was a great experience and I have been talking with Parkes and Aubry a lot since then. They have also helped me since I got here."
The Bayonne, France native just finished his first NHL prospects tournament in Traverse City, MI. Ouellet, who scored a goal and finished a -1 through four games, spent much of the tournament paired with the Wings tournament captain, Brendan Smith on the top pairing.
"Smith is a real good player and he's talking a lot to me on the ice," Ouellet said. "They are talking about him to be the next player in the NHL so it's good for me to learn from him. He has experience so he's helping me a lot."
The 18 year-old defenseman has some work to do before he can be considered NHL ready including adding strength and muscle to his frame. Ouellet will also need to work on his overall defensive game when he returns to the Juniors, but the Red Wings like his raw package of skating and puck moving ability.
"He's a really skilled defenseman," Trevor Parkes said. "He's almost like a Brendan Smith kind of guy. He likes to get up in the rush and he likes to put points up and he's pretty responsible defensively too. He's an overall defenseman and he's going to be a really good player."