NHL Prospect Tournament All History Team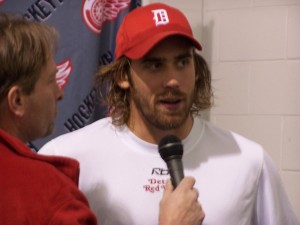 Since it's inception in 1998, the NHL Prospect Tournament has helped launch the careers of many current NHL players. Nearly 300 former tournament players have gone on to play at least one NHL game and 12 players have already played in 500 or more NHL games.
Over it's 12 year history, the tournament has been a place where fans, scouts and management can get the first glimpses of up and coming talent. Some big names have played in the tournament over the years and with the recent expansion to eight prospect teams more stars of tomorrow will get their NHL starts in Traverse City, MI.
Outlined below are my selections for the all history team based on the number of NHL games played and production. The list of NHL talent made this an extremely difficult task especially among the forwards. 
* Editors Note: This is part of an ongoing series of posts leading up to the 2011 NHL Prospects Tournament and Training Camp. For more info on tournament and Detroit Red Wings Training Camp please click here.