2016 Training Camp Alumni and Celebrity Roster Announced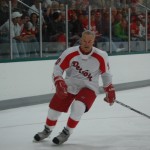 Red Wings training camp organizers in conjunction with the Detroit Red Wings have announced the rosters for the fourth annual Alumni and Celebrity game scheduled for September 24th. All players and teams are subject to change depending on availability. Tickets for this event are sold out.
Special jerseys have been designed specifically for the event and fans in attendance will be able to bid on the autographed jerseys during a silent auction that will open one hour before the game and run through the first period. Select jerseys will be available for auction and those interested in bidding on a jersey must pay by the 10-minute mark of the second period otherwise they forfeit the bid. Bid sheets must be filled out completely and be legible or the jersey will be awarded to the second highest bidder. Winning bidders must be present and will have a chance to meet the player and have their jersey autographed following the game. All proceeds from the event will support Centre ICE Arena and offset the cost of the event.
For more information on this event and the Red Wings training camp, click here.
TEAM FISCHER
Captain: Jiri Fischer
Head Coach: Bruce Haralson
Assistant Coach: Ken Daniels

Goalies:
Jeff Blashill
Eddie Mio

Defense:
Jiri Fischer
Jeff Finley
Dan Watson
Bryan Campbell
Andy Delmore

Forwards:
Ben Simon
Dino Ciccarelli
Darren McCarty
Mickey Redmond
Glenn Merkosky
Todd Beam
Brad "Dogg" Thompson
Dave Noel-Bernier
John Torchetti