Tomas Tatar: Nothing Left to Prove in the AHL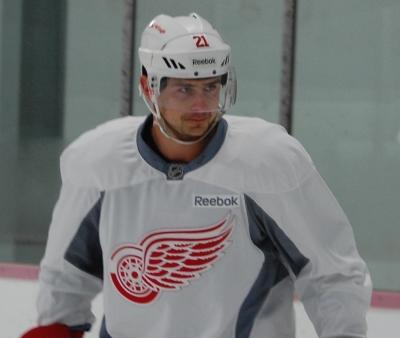 Tomas Tatar believes his NHL time has come. The Calder Cup MVP has spent the past four season in Grand Rapids and he believes he has nothing left to prove. Last season alone Tater scored 23 goals and 49 points in 61 games. He punctuated the year with 16 goals and 21 points in 24 post season games.
"We had a great run during the playoffs," he said. "I was happy my stick was hot and a lot of my shots went in. It was a great season, but it's over and now I am starting new. I don't want to look back, I want to look forward."
The 5-foot-10, 186 pound forward is focused on making Detroit's opening day roster. With the announcement of the Daniel Cleary signing today, the Red wings now have 17 NHL forwards signed which is three more than they will carry once the season opens in October.
"It is going to be a hard battle, but I am a young guy so I am ready for the battle," Tatar said. "I don't know what is going to happen and they signed new guys so I don't really know what their plan is. I am just going to try and prove that I belong there and it's up to them if they choose me or not."
The competitive forward is a proven goal scorer and has shown he can create offense at every level including the NHL. Last year, Tatar was called up midseason playing in 18 games where he netted four goals and seven points in that span. He'll have to continue that productivity when the exhibition season starts next week to make a strong push for a roster spot.
"Obviously I will try and play my best, but sometimes it doesn't go your way," he said. "It's kind of scaring me a little because sometimes you can't play the five best games in your life. I think I proved that I belong in the NHL these four years so these games shouldn't be the final decision factor, but I am going to play the best that I can."
The 22 year-old must clear waivers to be sent to the AHL and he's made it clear he isn't interested in a fifth season in the minors.
"I have been in the AHL for four years and we won a Calder Cup," Tatar said. "I love Grand Rapids, but I don't think it makes sense for me to be in that league anymore. I want to play in the NHL, but if there is no room with the Red Wings then hopefully another team picks me up on waivers or I am traded."
Tatar's agent has also fielded multiple calls from the KHL over the summer and if he can't land an NHL job then playing in Europe is a strong consideration for the diminutive forward.
"I have lots of options and teams in the KHL have called asking about my plans for this season," he said. "I want to do my best to make the NHL, but if that doesn't happen then I will probably play in Russia."
***
The buzz around training camp was the signing of Daniel Cleary who looked to have been on the way out of the organization on Tuesday after a handshake deal with the Philadelphia Flyers. The 34 year-old forward has spent the past eight season with the Red Wings and was having a tough time letting go of his connection to the Wings.
"It's hard for people to relate to the situation but there is nothing like being a Red Wing and I was having a tough time with the decision," Cleary said. "Paul Holmgren was a real class act and I think he understood how tough the decision was for me. I told them that I was having a hard time and I needed an extra day or two. In the end, I didn't think it was fair to him or the Flyers because my heart was here."
Cleary flew up to Traverse City to meet with Ken Holland and Mike Babcock on Tuesday night to try and come to agreement. The 6-foot, 203 pound winger officially signed a one year $1.75 million contract on Thursday and will join his teammates on the ice on Friday in Traverse City.
"We are happy to have Dan back," General Manager Ken Holland said. "I think everyone is excited to have him back because he is a big part of our team. He's a versatile guy who can play both wings. He wanted to be a Red Wing and signed a one year deal. That tells you about his passion for the organization and his teammates. I expect Dan to be in a Red Wing uniform longer than one year, but certainly this keeps Danny in Detroit."
***
With the signing of Cleary, the Red Wings now have 17 NHL forwards and will only carry 14 to get under the roster and cap limits once the season starts. That means competition and roster spots are on the line for forwards like Cory Emmerton, Todd Bertuzzi, Mikael Samuelsson, Gustav Nyquist, Joakim Anderson, Patrick Eaves, and Tomas Tatar.
"We made it really clear to our players [training camp and exhibition season] is competitive," coach Mike Babcock said. "They know they have to grab their chunk of cheese because we have too many players."
The Wings are also expecting more competition from players slated for Grand Rapids. Many of these players will be given a chance to play during the exhibition season.
"It's an individual time of year where you are trying to showcase yourself," Justin Abdelkader said. "Everyone is fighting for a job no matter if you have a spot in the lineup or not. They are going to have some tough decisions to make, but it is going to be competitive."
Once the exhibition season has concluded, the Red Wings management will meet and make final roster decisions and get the team under the salary cap.
"That is why I am hired to figure out the salary cap complication," General Manager Ken Holland said. "We have no choice, we will be cap compliant the Monday before the season starts. We have some decisions to make and I think they are good decisions because we have some depth."
***
Newcomers Daniel Alfredsson and Stephen Weiss skated for the first time on Thursday and both player will need a little time to get adjusted to the team and the coaching staff. The unit of Alfredsson, Weiss and Franzen will also need to time to build chemistry and hopefully eventually generate offense.
"It was awesome and a lot of fun to play in my first scrimmage," Weiss said. "I feel like as the scrimmage went on we got more comfortable with each other. The longer we stay together the more chemistry we will have."
Being secluded in Traverse City and miles away from Detroit is helping both players bond with their new teammates as well.
"I feel bad for my wife at home with four kids, but being up here around the guys is great," Alfredsson said. "It will make the transition a lot easier and I am going to try and make the most of it."
***
Daniel Alfredsson is willing to give back the number 11 to Daniel Cleary if he wants it. The 40 year-old forward is still contemplating numbers, but may decide on number 24 as he used to wear it when he first started in the Swedish Elite League.
"We are talking about it," Cleary said. "Alfie said if I signed he would give up 11. I am not worried about it as I am more concerned with the front of the jersey than the back."
***
Team Delvecchio beat Team Howe by a 4-0 margin. All four goals came from the top line of Abdelkader, Datsyuk and Zetterberg. Jonas Gustavsson and Thomas McCollum shared the net and the shutout. Team Howe's defense pairing of Max Nicastro and Gleason Fournier and a rough outing finishing the scrimmage a – 3.