Paterson Aiming for a Break Through Year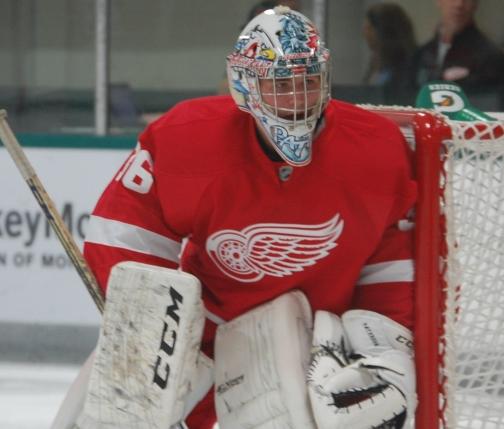 Jake Paterson has a lot on the line heading into this season. The 6-foot-1, 183 pound goalie is focused on having another strong season with Saginaw of the OHL. His numbers last year – 3.53 goals against and a .901 save percentage through 50 games – are strong when you factor in the youth and limited depth of the team.
"I thought it was a pretty good season," he said. "We had a younger team, but we definitely learned a lot throughout the year. I think the younger guys started to come along towards the end of the season."
The lack of experience was most visible during the Spirit's short lived playoff run which saw the team exit in four straight games to the London Knights. Paterson played in all four games and his .560 goals against and an .860 save percentage reflect how badly mismatched the two teams were. Despite the disappointing end to the season, the 19 year-old believes his team will be better heading into the 2013 – 2014 season.
"I think the team has grown from what happened last year," he said."The young guys are a year older and we have some good guys coming up. For me personally, I have worked hard this summer and I have a lot to prove so I am definitely looking forward to this season."
Despite a four game sweep in the OHL playoffs, Paterson has a lot to be proud of including being named to Team Canada's World Junior Championship squad. He didn't see any game action, but the experience was invaluable.
"Being the third goalie I had a lot of time to soak up as much as I could," he said. "It was a great experience and looking forward to this year it is a big goal of mine to make it on the roster again."
If Paterson's play at the 2013 NHL Prospects Tournament is any indication, he is destined to have the type of year that could help his chances. In two tournament games, the Mississauga, Ontario native has stopped 42 of the 44 shots faced and posted an impressive 1.00 goals against and .955 save percentage. He is currently listed as the second best goalie in the tournament behind Dallas's Maxime Lagace. He nearly had a shutout in tonight's game against St. Louis, but an unfortunate bounce off of Richard Nedomlel led to a third period goal for the Blues.
"I thought it was a pretty good game though it would been nice to get the shutout," he said. "It was more important that we won and secured a chance to play in the championship game. It meant a lot and I am really excited we have a chance to try and win the tournament tomorrow."
With the prospect tournament winding down tomorrow night, Paterson is excited about participating in the main camp which starts later this week. Due to the NHL lockout and cancellation of training camp last season, this will be his first opportunity to skate with the Red Wings.
"It's my first main camp," he said. "I am looking forward to being on the ice with all the Red Wings and learning from them. I had a chance to skate with the Griffins last year and it was a great experience so I expect this to be even better."
The 80th overall selection in the 2012 draft is hoping that another strong showing in training camp followed by what he hopes will be an impressive season will translate into an NHL contract with Detroit. The Red Wings, who already have Petr Mrazek and Jared Coreau in the system, will lose Paterson's rights if he is not signed by June 1, 2014.
"I have been working hard this summer and concentrating on having a good start to the season," he said. "I think a contract will happen if I keep playing the way I am right now. I am just working really hard to make sure that happens."