Raw McKee Happy to Take the Long Road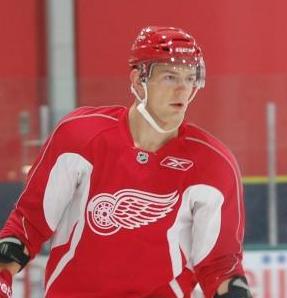 Mike McKee sat through seven rounds of the 2011 NHL draft in St. Paul, Minnesota and didn't hear his name called by an NHL team. So when it was time for the 2012 draft, he opted to stay home.
"It was kind of tough to sit through it last year," he said. "When I didn't get picked, I just put my head down and kept working hard hoping it would happen this year. When it was the Red Wings, I was just as surprised as anyone because I didn't talk to them until 10 minutes before their fifth round selection."
The 6-foot-4, 232 pound defenseman doesn't exactly fit the mold of a typical Detroit draft pick. McKee led the USHL in penalty minutes with 237 while playing for Lincoln.
"I can step up for my teammates if needed," he said. "But I can play the game too but if someone takes a shot at one of my teammates then it's going to happen."
the 18 year old blueliner will play Western Michigan in the fall, which is a decision the Red Wings endorse despite the ban on fighting in college hockey. McKee will have longer development time and the lack of fighting will allow him to improve other areas of his game.
"I spoke to Detroit just before they picked me about my future plans," he said. "College hockey will give me a chance to improve my game and not fighting will give me a chance to work on things like foot speed, stick handling, passing and shooting."
This week, the New Market, Ontario native is focused on learning everything he can from his first Red Wings development camp experience. McKee, who is noticeably more developed physically than most of the other attendees, hasn't looked out of place in his first development camp.
"I have learned so much from these last couple of days," he said. "I am trying to absorb everything I can and learn from these guys around me. I may be a little bit stronger but I am raw and these guys have a lot of skill. I am just trying to keep up with them."
McKee, who lost his front tooth during his first ever USHL fight, hopes he can use the tools he has learned this past week to develop his overall game. While he will never be accused of being an offensive dynamo, he does want to improve that are of his game.
"I can make the first pass and jump into the play if I need to," McKee said. I am not going to be a guy that is going to take the puck end to end, but I will make a good first pass and then play solid in my defensive zone. My game isn't flashy but I am working on adding a little more offense. It's a work in progress."