Life Without Lidstrom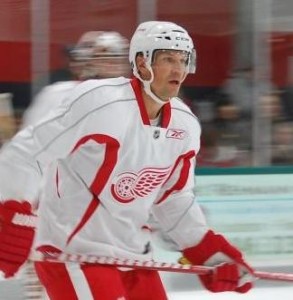 The deep bone bruise that is sidelining Nicklas Lidstrom is also giving the Red Wings a glimpse into their future. The 41 year-old defenseman has been a linchpin for Detroit throughout his 20 NHL season. Lidstrom has already sat eight games – the most consecutive games missed in his career – and with no signs of improvement his return date remains unknown.
Without Lidstrom, the Red Wings have struggled winning just three games during his absence. To make matters worse, Detroit's powerplay has been anything but an advantage. The special teams haven't converted in the last 28 attempts dating back to late February. While the Wings are also missing the fire power of Pavel Datsyuk among others, it's Lidstrom's passing, defense and ability to man the point on the powerplay that drive this teams success.
The 6-foot-2, 190 pound defenseman is no doubt nearing the end of his stellar NHL career, but Detroit is obviously hoping he will decide to play at least one more season. Even at age 41, Lidstrom is still one of the best defenseman in the league. When he eventually does hang up his skates, it will be nearly impossible to replace the seven time Norris Trophy winner.
The Red Wings have been trying to prepare for this situation for years through the entry draft. Last year alone Detroit used five of their nine total picks to select defensemen. Players like Brendan Smith and Jakub Kindl could help bridge the gap in the near term, but neither will replace the eventual loss of Lidstrom. Detroit boasts several prospects who have NHL potential, but are years away from even getting a chance to make an impact. Xavier Ouellet and Ryan Sproul are two of Detroit's best blueline prospects, but both need time and experience after only being drafted last June. Players like Adam Almqvist, Mattias Backstrom, and Nick Jensen are even longer term projects.
Niklas Kronwall, who is signed through 2019, remains a big piece of Detroit's future. The 31 year-old is already playing top minutes while Lidstrom is out and it's safe to assume he will be a staple on the top defensive pairing. Recently re-acquired Kyle Quincey, who will likely get a long term deal at seasons end, was brought back to help provide longer term defensive depth. Kronwall, Quincey and Jonathan Ericsson will help stabilize the future defensive corp while the prospects develop and free agents are acquired, but it is obvious that Lidstrom's eventual departure will still have a significant impact on the team.
The Vasteras, Sweden native is without question one of the greatest defensemen to play in the NHL. The Wings have benefited from his consistent and sound play for years, but his eventual departure will be painful for the organization. If these past eight games without him are proof of anything, it's that hockey in Detroit will look a lot different than it has the past 20 seasons with Nicklas Lidstrom patrolling the blueline.