Sproul Shines in Traverse City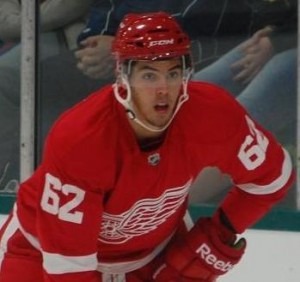 Ryan Sproul has set the bar high with his strong performance at the NHL prospects tournament in Traverse City, MI. His big game ability was a key reason for the Red Wings strong finish on Wednesday night. The 6-foot-3, 176 pound defenseman potted two goals and assist to lead Detroit to a 4-1 win over the Carolina Hurricanes earning the team a seventh place finish.
"For me personally it's been a pretty good tournament," Sproul said. "Obviously for the team it was been tough after losing the first few games, but we turned it around."
Sproul finished the tournament second behind Gustav Nyquist in team scoring with three goals and four points. The 55th overall pick in this years draft tied for third in scoring among tournament defensemen.
"He scored two big goals for us tonight," teammate Trevor Parkes said. "He's a real good player who has a big body and a big shot. If he grows into his body he'll be an outstanding defenseman for the Red Wings."
The hardworking blueliner admitted the pace of the tournament games took some adjustment. The experience of playing against older and faster players was also eye opening for the 18 year-old.
"This is just a little snippet of what's to come in the future," he said "The things I work on here are going to help me in junior but its going to help me most in the future. The NHL is where I want to be so playing in this tournament is going to help me."
Sproul, who plays for the Sault Ste. Marie Greyhounds of the OHL, had a good rookie year racking up 14 goals and 33 points in 61 games. His numbers might have been even better if he had more playing time early in the season.
"At the beginning of the year I didn't get a lot of ice time because I was a rookie," he said. "It was tough for me to be sitting on the bench and sometimes not be in the lineup. But I finished the season strong."
Despite his success in his rookie season in the OHL, it almost didn't happen. Prior to the start of the 2010 – 2011 season, the Mississauga, Ontario native was weighing the decision of playing college hockey versus playing junior hockey in the OHL.
"I had some offers from some schools and I also had an offer from Sault Ste. Marie," Sproul said. "I went home for two weeks and thought about it and talked about it with my family. I finally realized that my goal is to be in the NHL and the quickest way to do that is to go through the OHL."
Sproul's decision was reinforced in June when he heard his name called by the Detroit Red Wings at the 2011 NHL entry draft. The big defenseman didn't have an indication that the team had an interest in selecting him.
"I talked to Detroit at the combine once, but we had never talked more than that," Sproul said. "I wasn't really waiting for them to pick me, but when they did it was completely overwhelming. It is obviously one of the best organizations in the league if not the best. To come here it's going to take a little bit longer than a lot teams would, but I've already learned a lot and it's only been my first year."
While playing in the Prospects tournament was eye opening, Sproul knows that when the main camp opens on Saturday it will a totally different level of play. He's nervously excited to see how he matches up against NHL players and to learn the areas of his game that need improvement.
"It's the best organization in the league," he said. "To play with someone like Lidstrom, who I have looked up to my entire life, it's going to be incredible feeling. I want to learn from him. He was a late pick as well and look at him now, he's the best defenseman in the league. If I could be anything close to him it would be a great career.".
Notes:
The Red Wings had a very strong game Wednesday from start to finish. It is clear that the team developed chemistry as the tournament went on, but the slow start doomed the team from the start.
Red Wings forward Trevor Parkes on Detroit's tournament performance: "We had some tough breaks," he said. "We could have won all four games and we would have been in the finals today. I think we finished strong and that's a positive note to go out on."
Gustav Nyquist finished his strong tournament with the team lead in points with a goal and five points. The Swedish forward tied for fourth overall in tournament points.
Petr Mrazek bounced back after a dismal opening game stopping 24 of 25 shots on net.
Mitch Callahan and Marek Tvordon earned promotions to the second line after strong showings on Tuesday
Scratches for Wednesday's game were Tomas Jurco, Alan Quine, Gleason Fournier, Artem Sergeev, and Evan Mosher
Tomas Jurco's hip flexor injury is improving and he hopes to return on Saturday for the start of main camp.
Xavier Ouellet has also quietly had a strong tournament and has benefited by playing along side Smith through four games.
Gustav Nyquist and Joakim Andersson continue to play well and clearly have chemistry together. Willie Coetzee has used his speed and offensive instincts to fit in nicely on that line.
The Red Wings will get a day off on Thursday before participating in the Golf outing on Friday
Saturday's practice has been moved to a 7:05 start time in light of the departing for the Brad McCrimmon funeral. All Saturday ticket holders who cannot attend the new start time can opt to use the ticket to attend either the practices on September 21 or 22.
Sympathy cards for the McCrimmon family will be accepted at Centre I.C.E. Arena on Saturday. The team will bring them on the plane immediately following the early morning practice.