Pest Control: Callahan Wants to Prove He is Multidimensional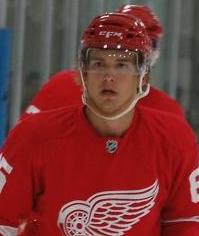 If Mitch Callahan had it his way, he'd fight as often as possible. The 5-foot-11, 186 pound forward cut his penalty minutes in half last season, while playing for the Kelowna Rockets of the WHL. His penalty totals dropped from 165 in 2010 to 87 in 2011.
"It wasn't really my choice to cut down the fighting," he said. "If I could I would still get 20 plus fights a year, but my coach wanted me to be the best all around forward on the team. He wanted me on the ice more than in the box so he told me no more than 10 minutes a game."
The move not only helped Callahan's offensive totals in 2011 (23 goals and 54 points) but also proved that he can show restraint when needed. His abrasive style of play will always be his calling card, but he also wants to show the Red Wings that he is a good all around hockey player as well.
"Without the fighting I kind of stepped up into a scoring role in Kelowna," he said "I played my energy and grind role on the top line along side two very good players in Brett Bulmer and Shane McColgan."
His improved offensive production helped the 20 year-old winger earned a spot on the U.S. World Junior Championship team. He finished the tournament with a goal and two penalty minutes while helping the U.S. place third.
"Playing in the World Juniors was really huge for me," Callahan said. " Winning the bronze medal was very proud moment. It wasn't gold, but to have some hardware to take home it is truly special. I get to keep that forever and always look back on it."
This week Callahan is in Traverse City, MI at the NHL Prospects Tournament as his first professional season gets underway. The agitating forward has dressed for two of Detroit's three tournament games including last nights 5 to 3 win against the Buffalo Sabres. Callahan, who served as a healthy scratch the previous game, played alongside Marek Tvordon and Alan Quine. The trio was the most productive line on the ice contributing to three of the Red Wings five goals.
"I think our line played really well and the whole team played really well," he said. "It was a good all effort team win. If we play more where we just chip it in and work hard down low then good things happen."
Callahan assisted on all three goals scored by his line. Even though he didn't fight, he was still involved physically and was called for only a two minute slashing infraction.
"If a fight happens, then it happens," Callahan said. "I am not going to go around looking for it like I did the previous years especially in camp. For now I just want to show the coaches what kind of player I am and the improvements I made over the summer and the past year."
Those improvements include adding ten pounds of muscle to his frame, while also improving his overall conditioning. Callahan also worked on his leg strength and skating in the hopes that it will help him adjust to the pro game.
"I feel comfortable and strong on the ice," he said. "I worked hard all summer and spent some time in Kelowna with my skating coach. Also Jiri Fischer came to see me in California for a couple of days to help me with some exercises."
Callahan hopes all the hard work will pay off in the form of a roster spot with the Grand Rapids Griffins this season. Competition will be fierce and the young forward may have to spend part of the season in Toledo if he can't keep up in the AHL.
"Obviously I want to be in Grand Rapids," he said. "But if I end up in Toledo then I am not going to sweat it. I will try and make it into a positive situation and climb back up to the AHL."
Notes
Despite their strong effort Tuesday night, Detroit still finished last in the Howe division and will play the Carolina Hurricanes on Wednesday at 3:00 pm in the seventh place game. Buffalo will face New York in the Championship game.
Detroit will not practice before taking the ice at 3 pm tomorrow.
Tomas Jurco sat out Tuesday's game because of a hip flexor injury. His status for Wednesdays game will be evaluated tomorrow morning.
Evan Mosher had a strong out in net for the Red Wings stopping 19 of 21 shots on net.
Marek Tvordon had a break out game scoring two goals and adding an assist.
Gleason Fournier has not played in the tournament because of a recent should surgery.
Petr Mrazek will get a chance at redemption tomorrow as he will get the start in net. Ramis Sadikov will serve as the back-up.
Willie Coetzee filled in for Tomas Jurco on the top line and used his speed effectively playing along side Nyquist and Andersson.
Joakim Andersson is quietly have a good tournament picking up two goals and being involved in a fight. Andersson and Nyquist could be an exciting combination in Grand Rapids this season.
The Griffins announced earlier today that they signed Adam Estoclet and Bryan Rufenach to AHL contracts.
Igor Larionov attended tonight's game to watch his client Artem Sergeev.