Red Wings Announce 2017 NHL Prospect Schedule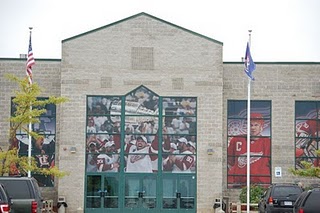 The Detroit Red Wings will host the 19th annual NHL Prospect Tournament at Centre Ice Arena in Traverse City, MI next month. This year's tournament is scheduled from September 8 – 12 and will feature teams from Carolina, Columbus, Chicago, Minnesota, Dallas, St. Louis, New York and Detroit. Tickets for the tournament are still available for $10 per day, which covers four games, exclusively at Centre Ice Arena or online at www.centreice.org.
Over the tournament's history, 552 players have gone on to skate in at least one NHL game, including 26 who played for Detroit in 2016-17: Justin Abdelkader, Andreas Athanasiou, Tyler Bertuzzi, Mitch Callahan, Jared Coreau, Jonathan Ericsson, Darren Helm, Jimmy Howard, Tomas Jurco, Niklas Kronwall, Dylan Larkin, Brian Lashoff, Anthony Mantha, Alexey Marchenko, Petr Mrazek, Tomas Nosek, Gustav Nyquist, Xavier Ouellet, Dan Renouf, Robbie Russo, Riley Sheahan, Brendan Smith, Ryan Sproul, Evgeny Svechnikov, Tomas Tatar and Henrik Zetterberg.
The tournament will divide the participating teams into two four-team divisions: the Gordie Howe Division (Carolina, Chicago, Detroit and New Yprk) and the Ted Lindsay Division (Columbus, Dallas, Minnesota, and St. Louis). Teams will play each opponent in their division in a round-robin format before a crossover on the final day of the tournament, capped off with the first-place finishers in each division meeting for the Matthew Wuest Memorial Cup on Tuesday, Sept. 15. The tournament's championship trophy was renamed in 2015 in honor of Wuest (pronounced WEEST), known for his work on the website CapGeek.com as well as his exclusive coverage and statistical archiving of the NHL Prospect Tournament on RedWingsCentral.com, spanning back to the inaugural tournament in 1998. Wuest passed away in March 2015 after succumbing to a two-year battle with colon cancer.
All games of the 2017 NHL Prospect Tournament will stream live on FOX Sports Go and DetroitRedWings.com. Users in the United States can download the FOX Sports Go app and stream every game of the tournament for free, regardless of cable or satellite provider. All games will also be carried live on DetroitRedWings.com with no geographic restrictions. Red Wings games will feature the play-by-play commentary of Red Wings radio broadcaster Ken Kal.
A complete schedule is below:
Divisions
Howe
Lindsay
Carolina
Columbus
Chicago
Dallas
Detroit
Minnesota
New York
St. Louis
Friday, September 8
Practice
8:30 – 9:15 am Columbus (David's) / Dallas (West Rink)
9:30 – 10:15 am St. Louis (David's) / Minnesota (West Rink)
10:30 – 11:15 am Chicago (David's) / New York (West Rink)
11:30 – 12:15 pm Carolina (David's) / Detroit (West Rink)
Games
3:30 pm Columbus / Dallas (David's)
4:00 pm St. Louis / Minnesota (West Rink)
7:00 pm Chicago / New York (David's)
7:30 pm Carolina / Detroit (West Rink)
Saturday, September 9
Practice
8:30 – 9:15 am New York (David's) / Carolina (West Rink)
9:30 – 10:15 am Chicago (David's) / Detroit (West Rink)
10:30 – 11:15 am Dallas (David's) / St. Louis(West Rink)
11:30 – 12:15 pm Minnesota(David's) / Columbus (West Rink)
Games
3:30 pm New York / Carolina (David's)
4:00 pm Chicago/ Detroit (West Rink)
7:00 pm Dallas / St. Louis (David's)
7:30 pm Minnesota /Columbus (West Rink)
Sunday, September 10
Practice
9:30 – 10:30 am New York (David's) / Carolina (West Rink)
10:45 – 11:45 pm Chicago (David's) / Detroit (West Rink)
12:00 – 1:00 pm Dallas (David's) / St. Louis (West Rink)
1:15 – 2:15 pm Minnesota(David's) / Columbus (West Rink)
Games
No games scheduled
Monday, September 11
Practice
8:30 – 9:15 am St. Louis (David's) / Columbus (West Rink)
9:30 – 10:15 pm Dallas (David's) / Minnesota (West Rink)
10:30 – 11:15 am Chicago (David's) / Carolina (West Rink)
11:30 – 12:15 pm New York (David's) / Detroit (West Rink)
Games
3:00 pm St. Louis /Columbus(David's)
3:30 pm Dallas/ Minnesota (West Rink)
6:30 pm Chicago / Carolina(David's)
7:00 pm New York / Detroit (West Rink)
Tuesday, September 12
Practice
10:00 – 10:45 am 2nd place Lindsay (David's) / 2nd place Howe (West Rink)
11:00 – 11:45 pm 1st place Lindsay (David's) / 1st place Howe (West Rink)
Games
3:00 pm 7th place (David's)
3:30 pm 5th place (West Rink)
6:30 pm 3rd place (David's)
7:00 pm Championship (West Rink)