2014 NHL Prospects Tournament and Red Wings Training Camp Schedule Announced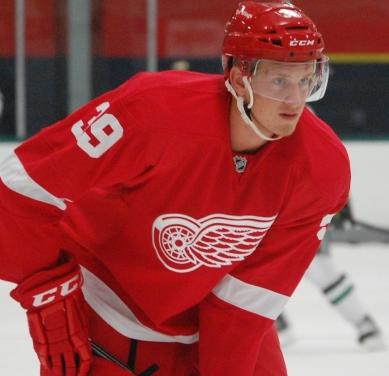 The Detroit Red Wings will be returning to Traverse City, MI to host their annual prospects tournament and training camp at Centre I.C.E. Arena in Traverse City, Mich. Additionally Centre I.C.E. will also host the Wings annual prospect development camp July 4th through the 9th.
The prospect tournament, which is scheduled for Sept. 12 to 16, will feature entries from eight teams including Buffalo, Carolina, Columbus, Dallas, Detroit, Minnesota, New York, and St. Louis. The full schedule will be announced at a later date. Tickets are priced at $10 per day which includes entry into four tournament games and will be available on game days. The tournament, which began in 1998, has produced 440 NHL alumni who have played in nearly 70,000 NHL games and scored more than 9,300 goals.
The annual charity golf classic, presented by Eitel Dahm Motor Group, will be held September 18th.  All proceeds from the event benefit Involved Citizens Enterprises (I.C.E.), a 501 (c) 3 non-profit organization providing affordable skating programs in Northern Michigan.
Training camp will begin Sept. 19 and run through Sept. 23 with ticket prices expected to run between $10 – $30. Ticket prices for practice sessions are $10 for standing-room only, $15 for reserved seating and $20 for the mezzanine. Tickets for the Red and White Game and Training Camp Alumni and Celebrity Game will start at $20 for standing-room only, $25 for reserved seating and $30 for the mezzanine. Select 2014 training camp merchandise will also be available for purchase. Additional details and a full calendar of the daily events will be released as they are available.
In addition to the golf classic and other training camp related activities, the Red Wings will be hosting a Training Camp Alumni and Celebrity hockey game tentatively scheduled for 7:00 pm on September 20th at Centre I.C.E. Arena. Last year's game included general manager Ken Holland, head coach Mike Babcock, current FOX Sports Detroit color analyst and former 50-goal scorer Mickey Redmond, 2013 Hockey Hall of Fame inductee Chris Chelios and four-time Stanley Cup champions Kris Draper and Kirk Maltby.
The first in-person ticket sale is scheduled for July 7th from 12:00 pm – 4:00 pm at Centre I.C.E. Arena.  Stay tuned to the Left Wing Lock for more information as it becomes available.
Key Event Dates
Event
Dates
Red Wings Development Camp
July 4 – 9
Training Camp in Person Ticket Sale
July 7
NHL Prospects Tournament
September 12 -16
Charity Golf Classic
September 18
Training Camp Alumni & Celebrity Game
September 20
Red Wings Training Camp
September 19 – 23