2014 Red Wings Development Camp Dates Announced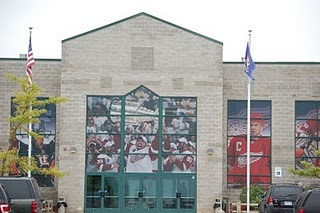 The Detroit Red Wings have finalized dates for the 2014 Red Wings Development Camp.  The  camp, currently slated for July 4th through the 8th at Centre I.C.E. Arena in Traverse City, MI, will showcase the organizations top prospects and 2014 NHL entry draft selections. The development camp is an educational and training camp for Detroit's prospects and is the only time to see many of the organizations college and European prospects. The past three development camps have included 13 players who made their NHL debuts for Detroit over the last two seasons: Adam Almquist, Mitch Callahan, Danny DeKeyser, Landon Ferraro, Luke Glendening, Tomas Jurco, Brian Lashoff, Alexey Marchenko, Petr Mrazek, Gustav Nyquist, Xavier Ouellet, Teemu Pulkkinen and Ryan Sproul.
Daily practice sessions will begin on July 4th with an intrasquad scrimmage currently scheduled for July 5th. Ticket prices for the 2014 development camp are $5 per day and will be available at the door. More information on the camp including a detailed schedule and roster will be posted when it is available.
The first in-person ticket sale for the 2014 Detroit Red Wings training camp and NHL prospects tournament will take place during the development camp with a specific date and time to be announced at a later date. Red Wings merchandise will also be available during the training camp ticket sale. Additional details on the 2014 Red Wings training camp and the NHL prospects tournament will be released as they are finalized.