Andrej Nestrasil: Center of Attention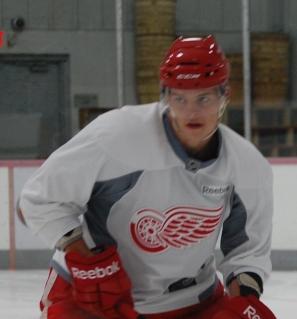 Andrej Nestrasil wants to finally establish himself as an AHL player after two up and down seasons. The 6-foot-2, 200 pound forward played just 50 combined AHL games the last season, spending the bulk of his time with Toledo of the ECHL.
"There was a lock out so at the beginning of the season I went to Toledo," he said. "I got called up and I thought it would be a break through year because I was playing on the second line, but then Detroit got healthy and they sent guys back to Grand Rapids. I moved to fourth line and then for the rest of the season I was in and out of the lineup. It was tough especially at the end, because the guys were playing unbelievable."
The 22 year-old practiced with the Griffins during the entire post season run. He only dressed for one playoff game, but was able to get his name on the Calder Cup.
"When they won the Calder cup I was so happy, but I was also kind of sad because I didn't contribute," Nestrasil said. "I went through the whole process, but it's just too bad I didn't get the ice time. I didn't get to play and I couldn't enjoy it as much as the other guys."
Nestrasil played a starring roll in the celebration immediately following the big win. The Prague, Czech Republic native interviewed many of his teammates on the plan ride home for local TV reporters.
"All the guys were so tired and I was so pumped up," he said. "It is an hour and half flight and they were all sleeping almost. It's the Calder Cup and you don't win it every year so I had to take charge."
The big forward is ready to put last seasons disappointments behind and focus on the new year. Nestrasil is also switching center from wing entering this season.
"I talked about it with Blash and Babs and they want me to play center this year," he said. "I am not worried about the offensive part because I know I have enough skills to contribute offensively. I really have to pay attention to what is going on in the defensive zone and watch the other center men so I can learn the position, but I am excited about it."
Nestrasil worked hard in the off season to get ready, only take a week off. The 75th overall pick in the 2009 draft switched coaches over the summer and focused on getting quicker.
"I skated three times a week all summer," he said. "I feel like I finally got faster this summer. During these scrimmages i feel great and I feel like I can keep up. I am more comfortable coming here now then when I first played here five years ago."
Though he won't play in tomorrow's Red and White game, Nestrasil is hoping to see some exhibition games. He is expecting competition to be fierce to get an opportunity to play especially given Detroit's current roster crunch at forward.
"This is Detroit so there is always competition," he said. "There are so many guys on the Red Wings and there are so many guys in Grand Rapids and it is like that every year. I am trying not to think about it and I am trying to come here every day and do my best on the ice and be positive."
It's that kind of attitude that has made the affable forward so popular with his teammates no matter where he plays. It didn't hurt that there is likely to be a large contingent of Czech and Slovak players in the organization.
"I am telling you if I weren't here these guys would kill each other," he said referring to the Czech and Slovak players in Detroit's system. "I am like their father especially last year with the season being so long, I had to keep my eye on them. Seriously It is great that there are so many of us because it is almost like being back home."
***
My interview with Nestrasil was interrupted multiple times by the likes of Tomas Jurco, Marek Tvrdon, Richard Nedomlel and Petr Mrazek as they were coming off the ice. Jurco stopped and added his opinion on Nestrasil's skills and "great hair" among other things.
***
Team Lindsay and Team Delvecchio finished the day with a 2-2 tie. Team Delvecchio one the training camp scrimmages and were awarded T shirts for the victory. Team Lindsay scorers were Tomas Tatar and Landon Ferraro while Team Delvecchio had goals from Callahan and Tootoo.
***
Trevor Parkes skated today after sitting out the previous practice as a precaution. The big winger had a collision with Mitchell Callahan on opening day and had to be tested for concussion symptoms. he was cleared to play by doctors and participated in today's session but will not play in the Red and White game Sunday.
***
Trevor Parkes believes he is a power forward in the making. The 6-foot-2, 188 pound forward has spent the off season adding muscle to his lanky frame to be ready for the rigors of the AHL this season.
"I tried to put on some weight and hit the gym hard," he said about his off season. "I want to be a big power forward and I have to compete with the big power forwards in the NHL. I feel like I have gotten the size so now it is time to go on the ice and prove it."
The 22 year-old played 36 games last season with the Griffins, but also saw 19 with Toledo. Parkes is hoping to nail down a full time AHL spot this season.
"It was an up and down season,  but I established my role being a big power forward," he said "I used my body, skills, size and physicality to  my advantage. I have to find my niche and take my place as a power forward in Grand Rapids."
Parkes is entering a contract year with the Red Wings after signing an entry level deal back in 2010. The Fort Erie, Ontario native must have a breakout year to be re-signed by Detroit.
"I just need to show them I am an everyday guy right from the drop of the puck," he said. "I need to show them that I can be a big part of Grand Rapids and that I can eventually play in the NHL. If I show them that then hopefully I can get another contract."
***
Cory Emmerton is trying not to think about the stiff competition he faces for an opening day roster spot. The 25 year-old saw action mostly on Detroit' fourth line last season and with questions around Darren Helm's health, he may have a slight edge because he is a center.
"Obviously Helmer is hurt and I have an opportunity to show that I have grown  from last season," he said. "There are still lots of forwards and they are going to take the best forwards. You just have to play well, especially in the preseason and I am trying not to put pressure on myself."
The 5-foot-11, 183 pound forward has played a total of 121 NHL games over 3 seasons. last season was the first that he dressed for every game.
"I think the biggest thing was getting on that penalty kill and getting a bigger role," he said. "When you are on the special teams you are in the game more. Last year was good to get out there in important situations and I think it helped me a lot."
***
Niklas Kronwall has taken note of Detroit's depth at defense. The 32 year-old has been especially impressed by Xavier Ouellet who is routinely turning heads this year with his efficient and steady play.
"Ouellet has been on my team and he's been unbelievable for us," Kronwall said. "He's very smooth out there and moves the puck really well and has good positioning. These are young players knocking on the door and they want to grab someones jersey and that's the way you want it to be."
***
Mitch Callahan admitted to being humbled by winning the Calder Trophy last season. The agitating forward played a big part in the team's success all season long.
"Seeing all the veteran guys who have never had a chance to win it, kind of opened up my eyes to see how exciting it was," he said. "I have won a championship in junior but this is a bigger trophy. It was pretty exciting."
The 6-foot, 190 pound forward took a huge step forward in his development playing in 71 regular season games and all 24 playoff games. He did all that despite having a slight tear in his shoulder AC joint which bothered him all season.
"This year I had a should problem that was bugging me all season," Callahan said. "I worked through it and didn't let it stop me. I just tried to create chances with the energy and play a simple game."
The Whittier, California native reduced his fight majors  from 14 to five in 2013 and focused more on his hockey skills. His hurt shoulder also caused him to be more selective with his bouts.
"I don't have the big guys coming after me like I did the first year, but I am still not shying away from the guys in my weight class," he said. "I was also laying low because of my shoulder but I stepped up when I had to."
Callahan, who celebrated the Calder Cup victory with a pool party for close friends and family, enters this season trying to take the next step toward the NHL.  The 22 year-old continues to try and show he is multidimensional in an energy role.
"I just want to improve and be more consistent," he said. "The coaches want me to be more reliable in the defensive zone and not take penalties. I also want to work on my agitating game and maybe get in a few more scraps in than last year."
***
Mike Babcock believes Jonas Gustavsson needs to re-establish himself after a disappointing season. The 28 year-old goalie played in just 7 games for the Wings posting an 2.79 goals against and a .879 save percentage with a 2-2-1 record.
"He's got to earn his keep like everybody else," coach Babcock said. "Nothing ever went good for him. Playing wise he was 50-50 and we can't afford that."
***
The Alumni and Celebrity was a huge success with Team Red defeating Team White by an 8-6 margin. Kris Draper netted a hat trick and rallied his team from an 8-3 deficit, but they came up just short.
***
The Red Wings announced the lineups for Sunday's Red and White game. They also announced an additional practice session for the players not participating in tomorrows game. For details click here.