Forward Motion: Roster to be Decided During Exhibition Season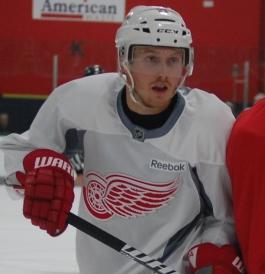 The Red Wings have big decisions to make when it comes to their final roster. With three extra forwards after yesterday's signing of Daniel Cleary, the competition is expected to be fierce. Jordin Tootoo, Gustav Nyquist, Tomas Tatar, Mikael Samuelsson and Todd Bertuzzi are among those vying for a spot.
"This is probably the toughest group I have been around in a long time," Samuelsson said. "At the same time this is what you want as an organization. As a player the pressure is on right away and if you can't handle pressure then you shouldn't be here in the first place."
The 36 year-old forward is scheduled to make $3 million this season after sitting out all but four games last year with various injuries. Todd Bertuzzi is in a similar situation after playing in just seven games last season due to a back injury.
"We have too many forwards," coach Mike Babcock said. "These things have a way of working themselves out and we have three weeks to do it. Everyone will get an opportunity during exhibition season and the best players are going to play just like every season."
Gustav Nyquist is the only forward in serious competition for an NHL roster spot who can be sent to Grand Rapids without clearing waivers. The 24 year-old played 22 regular season games and another 18 post season games for the Red Wings last year. He and line-mate Joakim Andersson were staples on the third line for Detroit playing smart two-way hockey and generating offense. Despite that, he's not guaranteed a roster spot this season.
"We have a lot of forwards right now and a few of us won't be here because we have too many," Nyquist said. "Camp is a great opportunity for everyone to show what they can do. I can only go out there and do my best and play the game I play and show them that I want to be up here."
Once the Traverse City portion of training camp is complete and the exhibition season starts next week, the real competition begins. Coach Babcock  will use the games to assess the players  and finalize the roster.
"I have eight exhibition games to figure all this out," Babcock said. "These [practices] are walk throughs for me. Once the exhibition season starts, they will have four or five opportunities to grab a chunk of ice time and it's up to them to do it."
***
Big things are expected from defense partners Danny DeKeyser and Jakub Kindl this season. DeKeyser, who signed with the Wings late in the season after starring for Western Michigan for four seasons, played in just 13 NHL games but helped stabilize Detroit's blueline. The 6-foot-3, 190 pound defenseman made an impression playing steady defense in two post season games before breaking his thumb.
"Anytime you get some playoff games and experience it is big," he said. "Especially coming into next season. Hopefully that transitions well into this year."
Jakub Kindl used last season to finally establish himself as a full time NHL player. The 26 year-old saw limited action as a seventh defenseman the previous two seasons after failing to earn the coaches trust. Heading into last years shortened season, he had plenty of confidence after seeing top minutes during the lockout for Pardubice of the Czech League.
"I have come a long way," Kindl said. "I was drafted when I was 17 and I spent 3 years in the minors and then I was looking ahead of me there were always guys ahead of me so I couldn't crack the lineup. All of a sudden the door got opened last year with Lidstrom and Stuart leaving. It was frustrating at times, but this is the Red Wings so it is definitely worth it."
Kindl, who signed a four year contract extension last year, had almost instant chemistry with DeKeyser. The duo became such a reliable second pairing that General Manager Ken Holland opted not to add a defenseman at the 2013 NHL trade deadline.
"I thought we played pretty [well] last year," he said. "He is a good skater and he makes good plays with the pucks .We are still young and there are always things we can work and things we can be better but I liked playing with him last year."
***
Team Howe defeated Team Lindsay with two quick goals late in the third period by Max Nicastro and Daniel Alfredsson. Both goals were scored on Jake Paterson.
***
Trevor Parkes did not participate in today's skate and saw limited ice time yesterday likely due to an injury. Willie Coetzee is attending the camp but not skating due to a knee injury that will keep him off the ice for four months. Nick Jensen continues to nurse a sore shoulder and Darren Helm is resting his strained groin.
***
Tomorrow's Celebrity and Alumni game ,which begins at 7:00 pm at Centre I.C.E. Arena, has been one of the most talked about events all week. The game is sold out and the auction for the specialty designed jerseys are expected to be competitive. The participants are hoping to put on a good show for the packed house.
"I don't know if excited is the word," Griffins head coach Jeff Blashill said. "I want to make it through the game. I don't play much goalie and I expect there to be a lot of stand up goaltending going on. I am very happy that guys like Kris Draper, Jiri Fischer, and Chris Chelios are on my team. It will be fun."
Red Wings head coach, Mike Babcock, also admits not being excited about the game. The 50 year-old former defenseman doesn't get much of a chance to play regularly given his coaching schedule.
"My excitement about it is at an all-time low," he said smiling. "Do you know how sore my hip flexor and groins are even after a little glide around the ice yesterday? It will not be one of my all time highlights."
Many of the NHL players are expected to attend to watch the Red Wings coaching and scouting staff play on Saturday night. Goaltender Jimmie Howard is planning on coming to watch his former mentor, Chris Osgood and current goaltending coach, Jim Bedard participate.
"I can't wait to watch the game," he said smiling. "I am going to come and see it to have something in my back pocket in case I need it down the road."