Richard Nedomlel: 'Exceeding Expectations'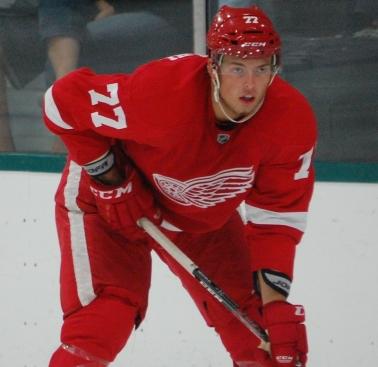 When Richard Nedomlel is on his game, he's the type of player you don't notice on the ice. The 6-foot-5, 231 blueliner is a stay at home defenseman who doesn't shy away from physical play, but also doesn't go looking for it either.
"I would say I am more of a stay at home defenseman who kills penalties," he said. "That's why Detroit drafted me and that's what they want me to do. I am happy to play that role."
The 20 year-old surprised many in the organization with his offensive numbers the last two seasons scoring 17 goals and 74 points in 144 games with Swift Current of the WHL. the production was a huge jump from his draft year total of no goals and 10 assists in 66 games.
"In Swift Current we really didn't have offensive guys so I stepped up and the  coach gave me the chance to play on the power play two years ago," he said. "It felt good and I started scoring so he let me play. My game is more about defense, but if there is a chance to go to the power play I am not scared to play there."
The Red Wings like Nedomlel's potential enough to sign him to a three-year entry level contract in April. The Praha, Czech Republic will face stiff competition for an AHL roster spot this season from a sizable group of incoming defensen including Alexei Marchenko, Ryan Sproul, Xavier Ouellet, Nick Jensen.
"It felt great to sign," he said. "I wasn't expecting it and I was just focusing on the playoffs when it happened, but now that I am here I know making Grand Rapids will be tough. It's the coaches decision and I just need to play the best that I can. It's my first pro year, so even if I end up in Toledo I am going to work hard to get called up."
Nedomlel tried to get a jump on the competition by spending over a month of his off season in Grand Rapids working with the Griffins strength and conditioning coach. The rugged defenseman, who also skated with the East Grand Rapids high school team this summer, focused his training on his strength and speed to help get ready for the season.
"Richard's work with our strength coach put him in a position to have the strong performance he had in the prospect tournament," coach Jeff Blashill said. "I think he is someone who maybe a year ago his skating wasn't where it needed to be. He has worked real hard and I think he gained a half a step just in the off season."
Nedomlel, who played in all four tournament games for the Red Wings, finished with a plus-1 rating and no points. The big defender also dropped the gloves in the first game against the Minnesota Wild.
"He exceeded expectations," Blashill said. "He has a physicality and a toughness to him and he defended very well especially on the penalty kill where he reminded me a little of Jonathan Ericsson.  I am real impressed with where his game is at."