Impact Zone: Riley Sheahan hopes to Increase his Physical play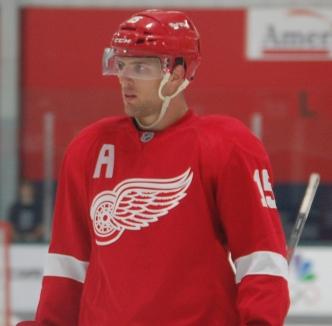 Riley Sheahan looked like a man among boys playing in the Red Wings opening game of the 2013 NHL prospects tournament against the Minnesota Wild. The 6-foot-2, 212 pound center scored a key goal for the Wings to put the game out of reach Thursday night in Traverse City, MI.
"Both Sheahan and Tomas Jurco are coming here after spending a year in Grand Rapids where they were very good players and pieces of the puzzle," Griffins head coach Jeff Blashill said. "they didn't have to be the key players on a nightly bases, so this tournament is a great chance for them and I thought they were both outstanding."
While Sheahan's goal was critical for the Wings, more importantly was his willingness to punish the opposition. The 21 year-old had several big hits early in the game that set the tone for the team and provided energy for the forward lines.
"I think all these guys have to realize that in order to make the next step they have to be physical," Sheahan said. "It doesn't matter how big and strong you are, you just have to finish your checks and be hard on the puck. I am just trying to play hard and lead by example."
The former Notre Dame standout had a solid first year in Grand Rapids scoring 16 goals and 36 points in 72 games while also playing a regular shift during the teams Calder Cup run. Despite his successful transition to the pro ranks, Sheahan believes his physical play needs improvement coming into the 2013 season.
"Playing physical is something  I missed last year," he said. "I worked in the off season to get stronger so I could have a greater impact this season."
With a year of AHL game experience, Sheahan is feeling more confident about stepping up his physical play and that might just be his ticket to the NHL someday.
"It's something as a coach we didn't emphasize to him early and throughout the season,"  Blashill said. "I think Riley is a very good defensive player and he has very good offensive ability, but if you can be physical then you can have an impact every single night whether you are scoring or not. It's an important part of his development and it's something we are going to have to emphasize."
***
Andreas Athanasiou's goals as a hockey player are simple: be the best player he can and win at all costs. His two goal performance Thursday night at Centre I.C.E. Arena was a reflection of that philosophy.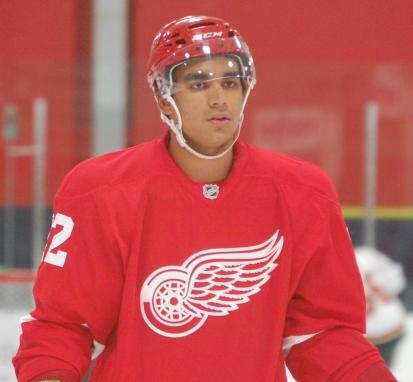 "I thought he was outstanding," Coach Blashill said. "He got the game puck for being the best player and it wasn't the two goals. I thought he did everything right. He was great defensively and he did all the things it takes to be a complete player. I was extremely impressed with him tonight."
The 6-foot, 179 pound forward has speed to burn and plenty of offensive potential, but his critics have always cited his defensive play and consistency as needing improvement. Athanasiou is hoping to put together a final season of junior hockey with Barrie of the OHL that will silence the critics and also earn him a contract with the Red Wings.
"I want to be an NHL player so I am focused on being the best player for my team," he said. "I don't think there is much that can stop me. I know I have the ability so I just have to carry through and be the best every night."
If impressing the scouts at the NHL Prospects Tournament isn't enough motivation for the 19 year-old, than having a chance to help the Wings possibly win their first ever tournament championship just might be.
"We talked about the fact that the Wings have never won the championship yesterday," he said. "I like to win and that is part of my game, so obviously when I heard that I thought 'here's a chance'. I win every where I go, so this will be a good opportunity."
If Athanasiou continues to play like he did on Thursday, he might be right about the Red Wings chances.