Motivating Factor: WJC Cut Propels Sproul to Success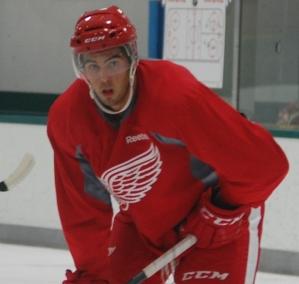 Disappointment doesn't begin to describe how Ryan Sproul felt to be one ot the last players cut from the Canadian world junior selection camp. After returning to the Sault Ste. Marie Greyhounds, the 6-foot-4, 200-pound defenseman had new drive and determination.
"Going in I didn't have any expectations, but of course I wanted to make the team," he said. "Once I got cut, I used it as motivation to keep pushing. It was one of those things in the back of my head all the time. I just decided to do as well as I could and prove them wrong."
Whether it was the added motivation or something else, The 20 year-old wrapped up his junior career by leading the OHL in points with 66 in 50 games and winning several top honors. Sproul was also recognized in the OHL coaches poll in several categories including hardest shot and best offensize defensemen. The Greyhounds blueliner capped off his outstanding season by winning trophies for the OHL and CHL defenseman of the year.
"It was a big honor to win those trophies," Sproul said. "There was a good group of guys up for those trophies, so to win them was really a surprise. I thought my year went pretty well as I played more of a veteran role so it was nice to recognized."
Despite Sproul's gaudy numbers, it wasn't enough to help the Greyhounds get beyond the first round of the OHL playoffs. The 55th overall selection in the 2011 NHL draft picked up two goals and five points in six playoff games. Following his teams early exit, Sproul signed an amatuer try-out contract with Grand Rapids and joined the team for part of the post season.
"It's just another step up from the OHL," he said of his time with the Griffins. "I played in two games of the regular season and then I was with them for some of the playoffs. The experience was great and it should help me coming into this year."
Having spent the past week in Traverse City, MI at the Red Wings development camp, Sproul is focused on getting ready for the upcoming season – his first as a pro. In addition to adding muscle to his frame the past two years,  the big defenseman is hoping to show he can bring more to the ice than just offense.
 "I am working on trying to be versatile," Sproul said. "I want to make sure the coaches can put me on the ice  in any situation. I want to be accountable, but I also want to play my offensive game."
He will be one of five rookie defensemen (the others include Alexei Marchenko, Nick Jensen, Xavier Ouellet, and Richard Nedomlel) competing for a limited number of AHL roster spots this fall. The ultra competitive Sproul is excited about then the defensive competition expected in training camp.
"It's competition between all of us," he said "We are all good buddies and as much as it is competition, we are going to push each other the best we can. I am looking forward to it."
Although he is focused on earning an AHL roster spot, Sproul would like nothing better than to help the Griffins repeat as AHL champions.
"I watched them win the Calder Cup last year and I am so proud of the guys," he said. "If I can help them do that again this year it would incredible. My goal is to make the team 'first and we will see what happens, but  I am really excited to get the season going."