Xavier Ouellet: Counting the Days Until Training Camp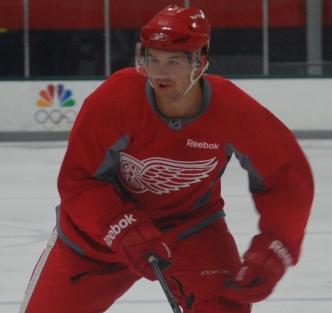 Xavier Ouellet can hardly contain his excitement about starting his professional hockey career. The 6-foot, 187 pound defenseman finished his final season with the Blainsville-Boisbriand Armada scoring 10 goals and 41 points in 50 QMJHL games.
"Overall it was a good season," he said. "It was kind of hard because there was a lot of adversity for the team and for myself. I've had a high ankle sprain on and off throughout the season. It's part of hockey and I am better for going through that."
The 19 year-old also represented Canada at the 2013 world junior championship picking up a goal and three points in six games. Despite his strong play, the team finished a disappointing fourth after an overtime loss to Russia in the medal rounds.
"It was a great experience and making team Canada was a goal that I had for the last few years," Ouellet said. "I was really honored and proud to be part of that team. It didn't go as well as we expected, but it was a great experience."
With his junior hockey career behind him, Ouellet is gearing up for training camp this fall. The 48th overall selection in the 2011 NHL draft is one of five incoming rookie defensemen competing for limited roster spots in Grand Rapids.
"I can't worry about the other guys, I've got to focus on myself," he said. "I have been playing a lot of minutes in junior and that's my goal in pro too. I want to be in top shape by getting stronger and gaining some speed. I think that will help me win a spot with the Griffins."
Like several other prospects, Ouellet had a chance to experience the AHL after joining the Griffins for a few weeks. The two-way defenseman practiced with the team before leaving to return home to rest his ankle.
"It was a good learning experience," he said. "Being there gave me a chance to be on the ice with the guys and adjust to the speed of the game. I watched the games from the stands and it helped me see how there is a lot of structure and speed at this level. I think that will be great help coming into next season."
After winning the Calder Cup, expectations for the Griffins remains high heading into next season. The young defensive unit, which will likely be headlined by Ouellet among others, will need to play beyond their years to have a shot a back-to-back championships.
"Next year they will have another good young team and I hope to be part of it," Ouellet said. "There is a lot of expectations on the team, but I can't wait to get started.  It is going to be a big challenge but I am ready to be part of it."
While his focus is on earning an AHL roster spot, Ouellet has his sights set on playing in the NHL. The rookie defenseman understands that Detroit doesn't rush prospects and there won't likely be open rosters spots next season, but he hopes to prove he's ahead of the development curve and earn a call-up during the next few seasons.
"My goal is to play for the Detroit Red Wings as quick as possible," he said. "I will do everything for that chance. I am working hard everyday so that I can get better and make the decision hard for the coaches in September."