Work Just Beginning for Competitive Nastisiuk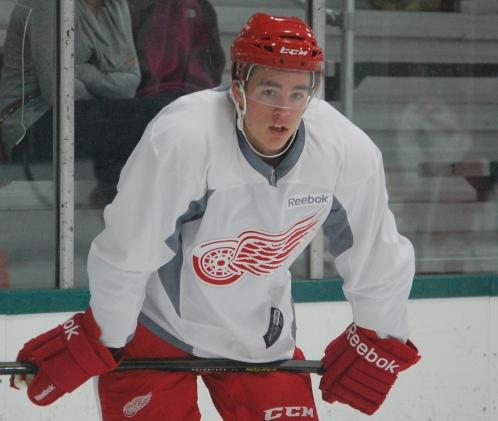 Zach Nastisiuk can't help but smile as he talks about his first development camp. The 18 year-old  understands he has a long road ahead, but he's excited to learn from a group of former NHL players that include Kris Draper, Tomas Holmstrom, Jiri Fischer, and Chris Chelios.
"It's incredible seeing how they act and seeing them on the ice and their work ethic," he said. "You see it on the TV, but it isn't the same. When you see it first hand then you understand what it takes. It's been eye opening but fun."
Nastisiuk was drafted 48th overall by the Red Wings a little less than two weeks ago and he's been unable to contain his excitement since.
"Like everyone says hearing your name at the draft is a dream come true," he said. "To be drafted by such a successful organization is a real honor. It was incredible and I am so happy to be here right now."
The 6-foot-1, 190 pound forward is a defensive minded forward who has only shown flashes off offensive potential. In 62 OHL games with Owen Sound last season he scored 20 goals and 40 points. He also led the Attack in playoff scoring with 4 goals an 11 points in 12 games.
"I definitely want to work on my offensive game, but I know that isn't going to happen over night," Nastisiuk said. "As fun as it is to score goals, I take pride in my defensive game. If you want to play at the next level you need to have a 200 foot game and my defensive game is a good start."
Nastisiuk is one of those players who brings more to the ice than offense, which is why many scouts were raving about his potential leading up to the 2013 draft. The Barrie, Ontario native is always looking for ways to improve and  so it wasn't a surprise when spoke to his coach, Greg Ireland, last season about how he could become more of an impact player.
"My season in Owen Sound went pretty well," he said. "For me personally, I started off more as a role player  but as the second half came up I talked to my coach. After that  I really elevated my game and it helped me climb the ladder on the draft rankings."
With the draft behind him, Nastisiuk is preparing for another OHL season and his first NHL training camp. His participation in development camp this past week has given him an understanding of what that will be like and how he needs to prepare.
"I am working and training really hard this summer because I want to prove myself to Detroit and be ready for another year in Owen Sound," he said. "A big area of focus for me is my skating. Everyone has been on me about improving it and I totally agree.  It's going to take time but I am going to keep going and get better so that I can take my game to the next level."