Martin Frk: Tired but Determined Heading into His First Pro Season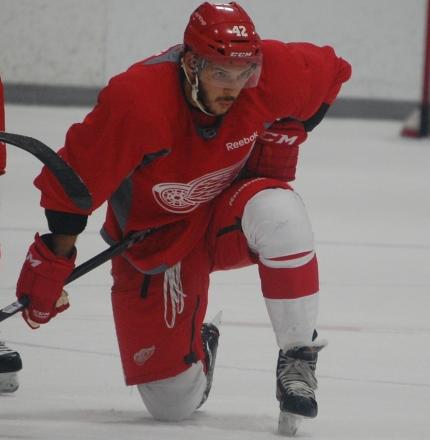 Forgive Martin Frk if he come across as tired these days. The 19 year-old forward has played 90 hockey games this year including 13 representing the Czech Republic at the 2013 World Junior championship as well as an extended playoff run with Halifax in route to the Memorial Cup. But don't mistake his exhaustion for lack of determination or enthusiasm about his hockey future.
"The season was very long this year," Frk said. "I am just trying to get back into shape. I didn't skate after the Memorial Cup at all, so my first ice was Wednesday and I was absolutely dead."
The 6-foot 203 pound forward might be tired, but he has a lot to be happy about. Frk was a major reason the Halifax Mooseheads played for and eventually won the Memorial Cup. The dynamic winger, who has a cannon for a shot, finished second in QMJHL playoff scoring and 4th in Memorial Cup tournament scoring.
"It was just a special 11 days," he said. "It was the best four teams in the CHL playing for the Cup and I am so happy we won. It was a great experience and my team was so much fun all year."
The Mooseheads were powered by the top line of Frk, Jonathan Drouin, and Nathan MacKinnon. Drouin and MacKinnon were selected first and third at last months NHL draft and both have already signed NHL contracts.
"I played with them all season and they are very good hockey players," Frk said. "They know what they have to do to win. I am happy I had the chance to play on the same line with them."
The Pelhrimov, Czech Republic native didn't spend much time celebrating his victory knowing that he needs to get ready for the transition to professional hockey this fall. After heading home for a few weeks, Frk returned to Montreal to resume his off-season training where his focus is on improving his core strength and foot speed.
"I was home for maybe two weeks and that was enough," he said. "It was a long season and I needed to get back to Montreal where I work out and stay there as long as I can before the September camps starts. I have a lot of work to do to get ready."
While Frk knows a roster spot in Grand Rapids isn't guaranteed, he's hoping his willingness to play any role will help his chances. His defensive game is a work in progress, but he understands that playing a two-way game is a priority for the Red Wings especially at the next level.
"I feel good playing offensively and scoring goals," he said. "But if the coaches want me on the third line playing defense then I will do it because I want to help the team. Detroit always emphasizes defense first, so I know I have to play much better defensively."
Frk, who was Detroit's 49th overall selection in the 2012 NHL draft, didn't get a chance to participate in the NHL prospects tournament or Red Wings training camp last season due to the lockout. Even though this years camps will be a new experience, he is confident that his Memorial Cup and World Junior experiences prove he is more than ready for the pro game.
"At the September camps, I want to try to show the coach that I am ready to play," he said. "I have a lot of work to do this summer, but it's up to me to show how I improve or how I get better so I can get to the next level. I hope to come back in September and do my best to make the team and hopefully have a good year with Grand Rapids."