Making the Grade: Nick Jensen Excited About Jump to the Pro Ranks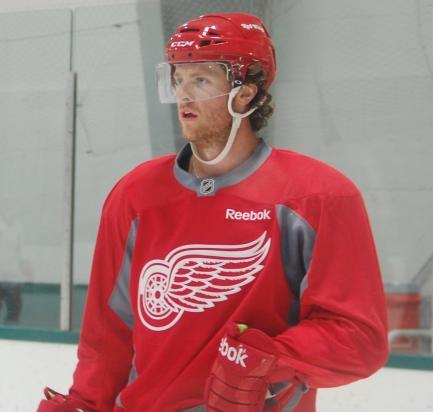 Nick Jensen has very quietly become one of the Red Wings rising stars on the blueline. The 6-foot-1, 193 pound defenseman won't be finishing his finance degree anytime soon after deciding to turn pro at the end of last season. Jensen is about 36 credits shy of earning his degree, but he still plans to finish it over the next few years.
"The overall college experience was pretty special," Jensen said. "I am so fortunate to have had such great coaches who really helped me develop my game. They really pushed me and helped me improve."
The unassuming blueliner showed tremendous growth in his three seasons, but his final year was one he will never forget. Not only did his team reach the semifinals of the frozen four before bowing out to Quinnipiac, but Jensen was individually recognized with the 2013 WCHA Defenseman of the year award and named first team all-American. Despite the lengthy list of accomplishments, the 23 year-old is the first to redirect any credit to his coaches and teammates.
"I couldn't have made it without the guys standing next to me on the ice," he said. "They made me a better player and are the reason I won that award. Obviously it was really exciting to win, but I am even more proud of the team for making school history and advancing so deep in the tournament."
Jensen, who was the 150th overall selection in the 2009 NHL draft, signed a two year entry-level contract with the Wings following his junior season. The Rogers, Minnesota native is expected to get a long look for a roster spot with Grand Rapids next season.
"I am excited to start my pro career and especially with such a great program like the Detroit," he said. "I am just going to work as hard as I can and play my style of hockey and hopefully it will pay off. You have to earn your spot and I have always been a believer in hard work."
The offensive defenseman had a taste of what the AHL will be like after signing an amateur tryout contract with Grand Rapids at the end of last season. While he didn't see any game action, Jensen practiced with the team and stayed for the duration of the Griffins Calder Cup run.
"It is one of the greatest groups of guys I have ever met," he said. " I got to stay all the way until the championship and watch them win it. It was super exciting even though I didn't get to play and I felt just as much a part of it as they did."
While a spot on the Griffins blueline isn't guaranteed especially with Alexei Marchenko, Ryan Sproul and Xavier Ouellet all set to turn pro next season, Jensen is hoping his off-season training will help him nail down an AHL job. The smooth skating Jensen is best known for his offensive style but has worked tirelessly the past few seasons to round out his defensive game. Despite his improvements, he still believes he has long summer to do list.
"You are never done developing in any aspect," Jensen said. "I can always become a better skater and I can always become a better defender. I also want to work on my passing as coach Blashill and Paek have really emphasized that with me. Obviously I also want to add strength so I can compete against the pros. There is still a lot more work to do."