Back to School: Wings Draft Philosphy Shift Paying Dividends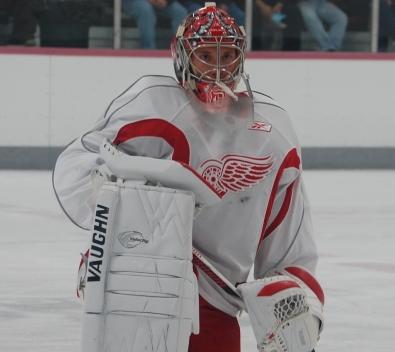 For years the Detroit Red Wings put heavy emphasis on finding NHL talent in Europe. The collective bargaining agreement, which expired in 2004, allowed teams to retain the rights of European talent indefinitely. The Wings used this to their advantage selecting players like Jonathan Ericsson, Pavel Datsyuk, and Henrik Zetterberg late in the draft and allowing them to slowly develop. While they were uncovering European gems in the 1990's and early 2000's, Detroit was completely ignoring the college ranks and having only marginal success in the Canadian junior leagues.
Knowing that the European loophole was likely to close with a new collective bargaining agreement, Detroit signaled a change in philosophy by drafting future franchise netminder, Jimmy Howard in 2003. Prior to Howard, the Wings had drafted only two other college players in an eight year span dating back to 1995 (University of Maine's Todd Jackson in 2000 and RPI's Francois Senez in 2001) and neither saw any NHL action.  Things weren't any better in the 1990's as Detroit managed to unearth only four NHL players out of the college ranks including Ryan Bach, Mike Knuble, Dan McGillis, and John Jakopin. All four players spent the bulk of their NHL careers with other teams, with only Knuble seeing any time with the Wings (just 62 of his 1,068 NHL games).
After the Howard selection in 2003, the Wings began to focus on scouting the NCAA. In 2005 they selected Michigan State University forward Justin Abdelkader with the 42nd overall pick and he has 257 NHL games of experience already. Beginning with Abdelkader, Detroit has selected at least one college committed player in each of the last eight drafts and they have even jumped into the college free agent pool inking Brett Lebda (Notre Dame in 2004), Jordan Pearce (Notre Dame in 2009), Danny DeKeyser (Western Michigan in 2013) and Jared Coreau (Northern Michigan in 2013). In addition to Howard and Abdelkader, the Red Wings brass have found NHL talent in Brendan Smith (Wisconsin), Gustav Nyquist (Maine),  Danny Dekeyser and Riley Sheahan (Notre Dame). Additionally Nick Jensen (St. Cloud State), Max Nicastro (Boston), and  Jared Coreau have signed contracts with the Detroit and remain in the development system.
With the rule changes, the Wings are more inclined to look to the NCAA later in the draft, choosing to take players who have longer development periods. They did exactly that in 2012 selecting both Mike McKee (committed to Western Michigan) and James DeHaas (committed to Clarkson) in the fifth round knowing that both players had at least one more year of junior eligibility remaining and allowing additional development time.
Below is a Table outlining Detroit's NCAA draft selections since 1990.
* Francois Senez left RPI in 2001- 2002 after falling out of favor. He later went on to finish his career in the QMJHL.
** Phillippe Hudon is included in this list because at the time he was drafted he was committed to Cornell University. He left school after struggling and later joined Victoriaville of the QMJHL and forgoing his college career.